Hey Gorgeous!
Yandy knows to feel comfortable and look great, you need to find the right fit. Measure your fabulous bod at home and then look at the size chart on the page of the costume you want to order. Since each costume or designer has potentially unique sizing standards, we've put a distinct size chart on each and every item's description page so it's easier than ever to find the perfect size!
Baffled about measuring yourself? Read on for instructions on measuring and more.
Measure!
Girl we know your life is fabulously busy, but when it comes to ordering costumes, do yourself a solid and get a measuring tape (and maybe a good friend to help hold it). Once you've measurements for your bust, waist, and hips, check out the sizing chart on the costume description page. Sizing charts can be different depending on the costume so resist the urge to simply order your usual letter size.
Follow this diagram to properly measure your curves.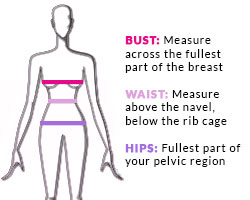 One Size Fits Most Costumes
Sexy, funnny... a few of our costumes are One Size Fits Most. These items will fit if you're around 90 lbs - 140 lbs. So if you usually wear XS, SM, MED, or sometimes LG – a one size fits most should work for you. If you're one of the many hotties with a few more curves, check out Yandy's One Size Fits Most Plus or Queen items. These Plus Size costumes are suggested to fit 160 lbs - 225 lbs or a size LG, XL, 1X, 2X, and sometimes a 3X.
Go Larger
We want you to slip on that costume and immediately feel fabulous! So keep in mind that our costumes tend to run small. If the size chart shows you to be between sizes, we recommend rounding a size up. A costume that's too small is rarely sexier -- sometimes it's not even usable.
Corsets can be Tricky
Fancy a corset? Measure all those curves! Corsets can be one of the hardest pieces of apparel to size so don't guess or you could end up with an ill-fitting costume. And since cleavage is the name of the game when it comes to corsets, we recommend basing your purchase off your bust measurements and NOT your bra size.
If you're really stuck on sizing (don't worry, we've been there), call the Yandy Customer Service Team 1.800.883.0860. We're here to answer any questions and help you shop for the ultimate costume!