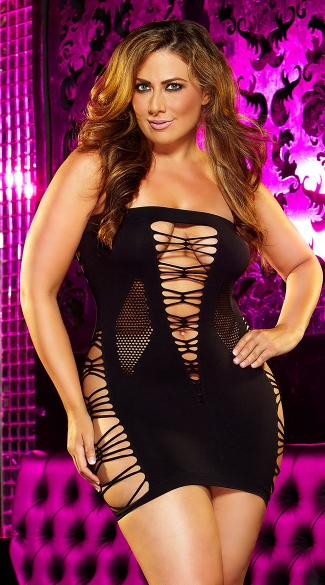 This sexy, plus size, mini dress features fishnet insets, open net panels and opaque panels.
CUSTOMER REVIEWS
Love this dress and can''t wait to tease and surprise my partner with that
Cute but not exactly what I expected. Boobs didn''t sit exactly right because they were too big but not bad
Better than I expected! Stay in place and it doesn't dig into your skin or leave marks!
Wear a dress 18-20 normally. This was good fit. Gorgeous in the back.
I just received mines in black and omg !!! i feel so sexy in it, I'm a 14/16 , 1x/2x and very curvy and this item fit me perfectly, great quality fabric, very stretchy, nice shiny sleek finish , the strings don't make your skin bulge out nor do they stretch out beyond capacity , and the length was perfect ( just like on the model) and the bust area stays in place !!!