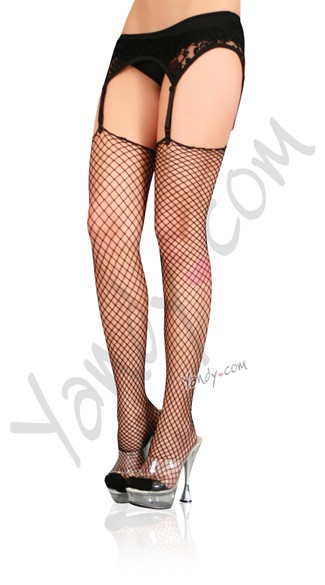 Plus size, Lycra, industrial net stockings with an unfinished top. (Garter belt not included.)
CUSTOMER REVIEWS
These were exactly what I wanted. They go with any garter belt. Also match my net top!
Hands down my favorite thigh highs that I own now. They look and feel great, stretchy, and durable. An absolute steal for the price they are! Highly recommended!
Very surprised that these fit a fuller leg but they do! So sexy.
Standard fishnets, always a winner! Love that there are so many options in bigger sizes.
Love it! So sexy without the nasty thigh bulge from the tops of the stockings! These are amazing, they are the only stockings I will wear from now on (so comfy). The reinforced toe is very nice to have, sometimes with costume stockings you need to worry about companies skipping that step but not the case with these. My only problem is that I really wish Yandy sold the diamond net version of these as well! I already have the diamond net version with the matching garter but would love to be able to purchase more industrial diamond net stockings without buying the garter again.
These are great because the unfinished top doesn\'t cut into your thigh leaving a bulge. I have a problem with other thigh highs with bands making my thighs "squish" over the top. I buy plus size but I only wear a size 8 jeans. I can\'t stand for them to squish my thighs!These solve that problem for me. :)