Plus Size Draped in Lace Dress
SKU: RM-LI129X
$55.95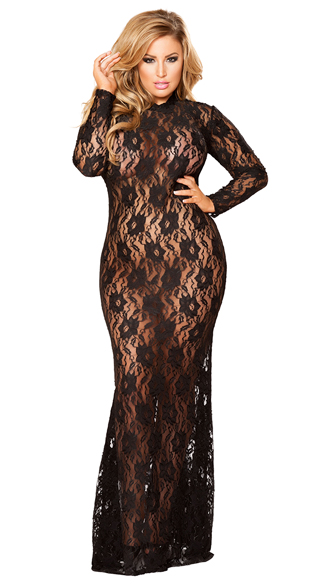 Look sexy draped in this plus size floor length lace dress featuring a high neck with long sleeves and an open back
+

Size Guide
| Size | Bust | Hips | Waist |
| --- | --- | --- | --- |
| 1X/2X | 40" - 44" | 41" - 46" | 31" - 36" |
| 3X/4X | 42" - 47" | 44" - 49" | 34" - 39" |
| Size | Bust | Hips | Waist |
| --- | --- | --- | --- |
| 1X/2X | 102cm - 112cm | 104cm - 117cm | 79cm - 91cm |
| 3X/4X | 107cm - 119cm | 112cm - 124cm | 86cm - 99cm |
| Size | Bust | Hips | Waist |
| --- | --- | --- | --- |
| 1X/2X | 102cm - 112cm | 104cm - 117cm | 79cm - 91cm |
| 3X/4X | 107cm - 119cm | 112cm - 124cm | 86cm - 99cm |
Having Trouble? Checkout our fit video.
CUSTOMER REVIEWS
i love how this is made and how it fits this is my favorite and is worth the price thank you yandy
Very sexy black wear heels because it runs long. Fun for sexy dancing with your hubby.
Finally made this purchase. Very classy and sexy. Love it and he did too.