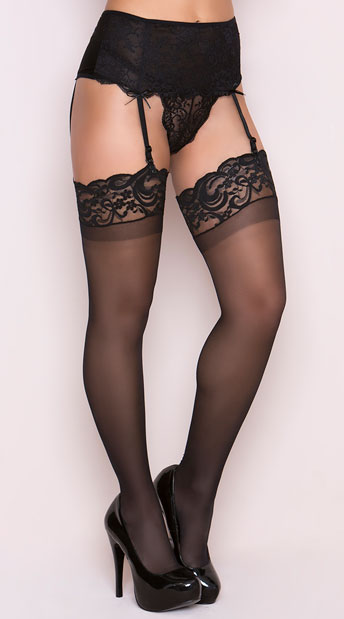 Complete your sexy ensemble in these sheer thigh high stockings featuring a stay-up silicone lace top. (Panty and garter belt not included.)
+

Size Guide
| Size | Cup | Dress | Hips | Bust | Waist |
| --- | --- | --- | --- | --- | --- |
| One Size | B-C | 2-14 | 34-40 | 32-38 | 24-32 |
| Size | Cup | Dress | Hips | Bust | Waist |
| --- | --- | --- | --- | --- | --- |
| One Size | B-C US | 34 - 46 | 86cm - 102cm | 81cm - 97cm | 61cm - 81cm |
| Size | Cup | Dress | Hips | Bust | Waist |
| --- | --- | --- | --- | --- | --- |
| One Size | B-C US | 6 - 18 | 86cm - 102cm | 81cm - 97cm | 61cm - 81cm |
Having Trouble? Checkout our fit video.
COMPLETE THE LOOK

Lace V Cut Panties
You'll feel fabulous in this flirty lace panty featuring a sheer design a soft V-shaped waistband, and a thong cut back. (Top not included.)
$5.99
+

Sizing Guide
| Size | Waist | Hips | Bust | Dress |
| --- | --- | --- | --- | --- |
| S | 23-25 | 34-36 | 32-34 | 4-6 |
| M | 25-27 | 36-38 | 34-36 | 8-10 |
| L | 27-29 | 38-40 | 36-38 | 12-14 |
| XL | 29-31 | 40-42 | 38-40 | 16-18 |
| Size | Waist | Hips | Bust | Dress |
| --- | --- | --- | --- | --- |
| S | 58cm - 64cm | 86cm - 91cm | 81cm - 86cm | 36 - 38 |
| M | 64cm - 69cm | 91cm - 97cm | 86cm - 91cm | 40 - 42 |
| L | 69cm - 74cm | 97cm - 102cm | 91cm - 97cm | 44 - 46 |
| XL | 74cm - 79cm | 102cm - 107cm | 97cm - 102cm | 48 - 50 |
| Size | Waist | Hips | Bust | Dress |
| --- | --- | --- | --- | --- |
| S | 58cm - 64cm | 86cm - 91cm | 81cm - 86cm | 8 - 10 |
| M | 64cm - 69cm | 91cm - 97cm | 86cm - 91cm | 12 - 14 |
| L | 69cm - 74cm | 97cm - 102cm | 91cm - 97cm | 16 - 18 |
| XL | 74cm - 79cm | 102cm - 107cm | 97cm - 102cm | 20 - 22 |
CUSTOMER REVIEWS
five stars love it great price too i will tell my friends good quality
I prefer the no pattern look these are nice. These,or any thigh high of any pattern completes the outfit. Recommend.
These fit my girl really nicely but she is a really petite little thing. I think it might be a really tight squeeze for an average build person and larger
Would re-purchase. Fit like a glove and was comfy.
This is really nice. I really like mine. I'm 4'11 and it looks nice when I bring it a little higher too.
The stockings are quite itchy. They do not stay up the best but all in all they are ok
Beautiful and great quality! These go well with many sets sold here on Yandy.com!
These are the best stockings and are the only ones I will buy.
Perfect fit. Looks exactly as the picture shows! Very happy here.
You can never have enough of pairs of thigh high''s. These are super comfy. Highly recommend.
Super sexy . I bought it for my wife. We both like it very much . It is true to size.
Love love love perfect and affordable I have in many colors
these are ok, nothing great. price is excellent. thank you for the service.
Loved these thigh highs! Went great with an outfit I had bought and were very easy to put on. I need more of these.
BEST classic thigh high stockings at the best price. High quality and they stay up really well with the silicone. Extremely comfortable.
Exactly what I expected and they look great. The shipping was fast and I am satisfied with my order.
These stay up well and make me feel super sexy! Definitely would recommend for those who prefer a sheer stocking.
I needed a pair of these to go with some of my outfits and honestly, I wanted to try out these stay up strips and see if they truly work. They do! I''m so happy and will be getting these in every color available.
Love the way they feel and look. They stay up just as advertised. A perfect pairing for all my outfits. Love wearing them.
These are great! They really stay up and they are good quality.
Standard but they get the job done and seem to be good quality.
Very sexy and stay up nicely while being active. I have already worn them a few times.
Love them. Even fits nicely on thicker girls. I''m a medium but I have thicker legs and the lace doesn''t run down on my legs which is super nice. Stays well in place too.
I loved the thigh high stockings. I can''t wait to wear them.
LOVE THEM FITS TRUE TO SIZE SOFT AND EASY TO CLIP ON GARTER
she liked them and they fit OK ZZZZZZZZZZZZZZZZZZZZZZZzzz
A wonderful addition to my collection. Perfect fit and is like icing on the cake to go along with my new outfits.
Wife likes how they fit, and feel.We will continue to purhace products from Tandy.com
this is a comfortable product and goes well my outfit. so im pleased ;)
This brand really stays up as pictured, very pretty lace tops over sexy sheer legs.
Pretty lace detail and sexy in black- recommended!
These are great, really stay up and look lovely as indicated in pix.
love these i plan on ordering more in other colors
I''m 5''10" and 170lbs and these fit well! They aren''t too tight at the top to create an unattractive squeezing of the thighs and they have a silicon/elastic-like coating on the inside so that they don''t fall down
I love these because they stay up very well!!! Very sexy
These really stay up, very pretty and oh-so-sexy under a short skirt.
Love love love!!! Made me feel so sexy and awesome! It fit great even though I''m short, it looked great!
Just right!!! The panty hose Stays on and looks good !!!
Look great, with sailor costume i purchased for my wife, a great add on.
Lovely seductive great color and material. Bought for future wife. Joe. L
My favorite thigh highs to wear with any set. They are comfortable and usually stay up very well.
Very nice. It''s a great thing to not have to keep pulling them up.
Fits perfectly. Didn''t slide down either. Classic black
Great pair of average thigh highs. Extra points for them staying up.
Nice and soft thigh high, colour was as in the picture.
So sexy thank you so much I love them and my bf does to
Stays up, after multiple wears and washes still in great condition. Not too restricting on thicker thighs.
Love them! Could be a tad thicker though. I am just worried they will tear easily. Great price though.
Awesome thigh highs. Best fitting thigh highs I''ve ever bought
nice nylons. sheer leg, stays up well, bands are comfortable on the leg
Nice product. The silcone works well and size is true.
Super sexy, super hot, you just have to treat them with delicacy if you don''t want to ruin them, they are very sheer and never run down as do they have a silicone band inside of the lace.
They are true to size and are very easy to put on. After wearing them for several hours at an event, they didn''t budge and stayed up
So comfortable! They stay up perfectly! I''ll definitely be ordering more!
very sheer and cute with any outfit, I think all girls need this in their closet!
Incredible soft and sexy definetley a turn on. I paired it with a garter.
Love these stay up''s! Thanks! So sexy! Wear them all the time!
wife looks supper hot in this outfit color fit who doesn''t like thighs
Essential, im a bit short (5"1) so there is a little bit of spare space but they do there job and should be an essintial part of any collection.
Nice material, but snags easily. PERFECT color too.
they were amazing! they stayed up until i didnt want them to anymore
cute, easy stay tops, that don''t bunch or slide down.comfy fit.
As always dreamgirl stuff is top notch quality. One of the best brands you can buy. These are true to size and feel great
I love these, they stay up great without feeling like they are digging into my thigh too much.
These thigh highs are perfect for any size legs. im very petite and they fit me. they are opaque so snag/rip easily but besides that perfect
The silicone lace top is not only a pretty touch but also helps these stay up on their own for outfits without a garter belt. Nice!
Stays up well and i love the smooth texture. Bought this i black
Love them, they fit nicely and look great! Significant other of mine is a big fan as well :P
Love these! Great price and they stay up great..will be back for more!
Better than expected. These thigh highs perfectly. I can''t wait to wear them
omg. Thees stocking rock. My wife put them on and the stayed up and made her legs look so good. They felt so nice agents the skin too.
They are as described, I am 5''0" so I wish they made them in petite, so they wouldn''t be so long. They are comfy and do stay up. Only missing 5th star due to size choices.
Comfortable thigh high and does stay up! Only issue is the stocking, it rips easier (after two or three uses of wearing all night) than other brands.
absolutely love how these stretch to fit around my legs. So beautiful and good quality material!
Super soft and sheer and stayed up without slipping!
I love these! They stay up when you walk and are the right height. I am 5"2 and they look exactly like the picture. And if i want them a little lower I am able to do that and they still look good:)
These will work for what I had planned. They are a good deal for the price and fit as expected.
Probably my favorite thigh highs. Stay up sticks where it is supposed to and these have a super smooth feel, almost glossy. Definitely plan on getting more like this!
Love it fit right don''t fall down good quality it''s worth it
This are great. They are a little tall. Something I didn''t think about when sizing. I would consider my legs to be shorter than that of the model. Lol. But can''t really complain of the quality and style.
very nice one! good quality and great design will buy more next time!
Very comfortable, sexy, AND they actually do stay up! Absolutely LOOOVE them!
They fit so perfect. They go with everything. Great buy!!!
I ordered the thigh high lace top with silicone they are Silky and beautiful I love them
These didn''t work for me. I didn''t like the way that fit at the top.
Girlfriend loves them, especially the silicone top. They fit snug but not to tight (they conform really well) and don''t fall down!