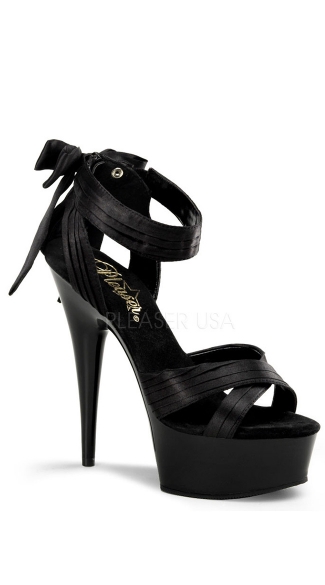 Dance the night away in this 6 inch satin sandal, featuring a pleated, criss-cross strap design, a zip up heel with a large bow accent, a 1.75 inch supporting platform, and a softly lined, inner sole.
CUSTOMER REVIEWS
I purchased these shoes in black and get tons of complements every time I wear them. They are also surprisingly comfy and easy to walk in. They have a squishy toe to them that I really appreciate. I got the size 9, but feel like maybe a size 10 would have been a better fit. I usually wear a size 9 in regular shoes, but a 9.5 in heels. Overall, really awesome shoe.
I'm a dancer and I bought these in red. I usually rock the Pleaser Infinity 9 inch shoe but this quickly has become my favorite. Great to dance in and my customers always notice my pretty red shoes because they are different then the typical dancer shoe, cute and sexy. They grab attention and look great with lingerie. I usually go through shoes quickly but even with nightly use they have lasted me awhile, great quality and very light to boot. Def recommend if your a dancer and looking for something different.
Sexy ass shoe.. Look better in person than online. Each shoe was inside a protective bag. It came with a bag to store the shoes. I like that because I don't want my shoes to get messed up while being in the closet. But the box was sexy as well so I kept them in the box. I like how they shipped my shoes as well it was wrapped up like a tight present. I like that they show they cared about my items. PLUS THEY SHIP UPS SO YOU CAN TRACK THEM. The platform is a shiny black and the bow in the back is super cute! The shoes are worth every penny and I will be shopping here again for sexy clothing and shoes to please my husband. I am in love with this site.. 3 3 3
These shoes are amazing! I bought these shoes in red for an upcoming boudior photo shoot. If you want to feel totally hot and sexy buy these shoes! Impeccable quality and detail.