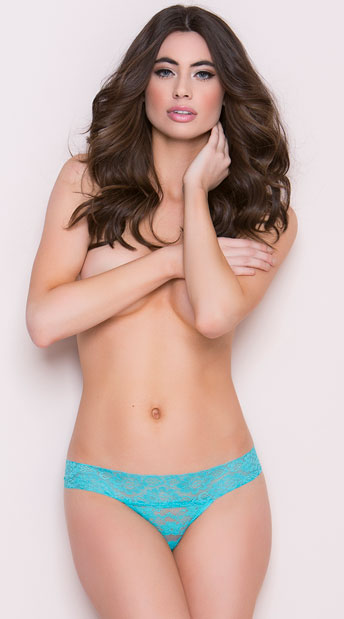 QUANTITY:
Sexy, soft and comfortable, this Yandy exclusive thong features all over lace and a thick lace band.
+

Size Guide
| Size | Bust | Hips | Waist |
| --- | --- | --- | --- |
| XS | 33.5-34.5 | 36-37 | 25.5-26.5 |
| S | 34.5-35.5 | 37-38 | 26.5-27.5 |
| M | 36.5-38 | 39-40.5 | 28.5-30 |
| L | 39.5-41 | 42-43.5 | 31.5-33 |
| XL | 42-43.5 | 44-45.5 | 34-35.5 |
| Size | Bust | Hips | Waist |
| --- | --- | --- | --- |
| XS | 85cm - 88cm | 91cm - 94cm | 65cm - 67cm |
| S | 88cm - 90cm | 94cm - 97cm | 67cm - 70cm |
| M | 93cm - 97cm | 99cm - 103cm | 72cm - 76cm |
| L | 100cm - 104cm | 107cm - 110cm | 80cm - 84cm |
| XL | 107cm - 110cm | 112cm - 116cm | 86cm - 90cm |
| Size | Bust | Hips | Waist |
| --- | --- | --- | --- |
| XS | 85cm - 88cm | 91cm - 94cm | 65cm - 67cm |
| S | 88cm - 90cm | 94cm - 97cm | 67cm - 70cm |
| M | 93cm - 97cm | 99cm - 103cm | 72cm - 76cm |
| L | 100cm - 104cm | 107cm - 110cm | 80cm - 84cm |
| XL | 107cm - 110cm | 112cm - 116cm | 86cm - 90cm |
Having Trouble? Checkout our fit video.
CUSTOMER REVIEWS
Very nice looks good on my wife and she loves this
I LOVE MY FREE PANTIES FROM YANDY, tHEY ARE SEXY AND SOFT.
Love the color and style and material will be ordering more
Very comfortable and fits great! It''s really sexy and good quality
These are SO soft, which is a MUST for lace thongs, lol!
these cute little panties were a big it with my man, he loved them.
Very soft and comfy! High quality and pretty color!
I really liked my free item. I got the Capri color and it looks just like the picture.
Ran a little small, but overall my girlfriend is extremely satisfied with how soft and sexy she feels in them.
They look good, and my wife likes the little pocket in the crotch - she can slip a small bullet vibrator in there to ''warm up''.
Not as stretchy as I hoped but still a great deal and very soft!
Very seductive and pretty colors. Nice style. I bought for future wife. Joe L
The selection was to small and did not fit . The quality of the product seemed superior
The panty is very soft lace but they run really small.
Very comfortable but delicate. Do not expect many wears out of these. For 2$ though you really can''t go wrong!
Very comfy and gorgeous. Love these a lot. Will definitely order more.
Great style and great quality. I love the free gifts you send. Always things I can wear.
Love the thong! Comfortable as always and color is nice! True to its size!
Amazing thong - soft lace, great color, comfortable.
Very comfortable and for fitting. These are great for everyday wear.
My wife loves this and the color. Looks sexy on her and fits nice.
Got these as a free gift and i must say im very pleased with the quality and fit, and so is my husband(;
lace thongs are always great and this was no exception - soft, no panty lines, pretty color.
Nice and cute thong panty. Nice choice of colours.
Cute and sexy thong panty with a very nice choice of colors.
They were free for ordering over 100. Cant go wrong with free!
great lacy panty. pretty and flattering. this one was white. a staple for any lingerie wardrobe
they come alot bigger than anticipated, i would deffinatly suggest ordering a size smaller but still very comfortable.
Love that they add this into the order they are great
These are my free panties, they are always a nice little present from yandy
perfect snug feel and fit, great aspect ratio, the color pops
great product i love theee so much they fit just right
Smaller than expected; though it''s lacey and has a cute design
Awesome, like so totally awesome. You''ll love it once you slide it on.
Great basic panty. I am on the smaller side and I bought size medium. Comes in variety of pretty colors. Can''t o wrong with this panty.
Runs small, normally wear large and xlarge is a little tight. Color is nice
Got these as a free gift with purchase. I wouldn''t have bought them, but now that I have them, I love them...they are adorable.
excellent outfit. Yandy has the best priced and best quality lingerie out there. highly recommended
fun and super lacy. sexy and simple, runs a little small.
Comfy, soft and sexy. Colors are also pretty nice.
attractive item. I am glad i made this smart purchase.Its adorable. Thank you
Love! I need these in every color. They are so comfortable & such a great deal! Better prices than victoria''s secret!
really plain and simple, basic slim underwear, goes with anything.
love this panty and the material is soft and so comfortable too
Absolutely loved it, it fit perfectly, it laid nicely on my hips. I prefer this than having it squeeze into my sides, so it is completely true to size,would reccommend this.
Super comfortable and great color. Will definitely buy more.
Beautiful product. Very sexy followed by great service.
comfortable and super cute. Love these so much. Will order from yandy again.
Nice panty, soft material fits good, size is true. yandy has amazing panty''s.
Super comfy and a great fit too. Always comes in and is packed well so there are no rips or damage.
I love the material and its exactly as the picture.
Very attractive. Love these on my girlfriend. Fit very well to size.
Super soft material & beautiful green color. Love the feel of this thong!
nice lace thong. look great on my wife. love that they were free with my order.
So comfortable and sexy. These panties are a must own.
I am very pleased with my free thong. It came in hunter green and I was a little unsure about the color when I first went to purchase, but I mean it was free. Once I saw the color in person though it was actually quite pretty. I am extremely pleased as always.
i love getting these with every purchase and it fits perfectly. i wish i could choose the color but it is free anyways.
These are so comfortable and very high quality, would purchase again in a heartbeat.
Cant go wrong with this thong. Feels good now and looks sexy as well. Got a couple colors and there all great.
No complaints here. free product fit was true to size. Wife thinks they are comfortable
Love these. They are super comfortable and very cute. I tend to size up in this material.
Exactly what I ordered. Nothing special but very nice quality
So comfortable! Also super cute! Love these and loved that they are free on every order! Amazing!
The are very soft and comfortable and fit very well in all spots
Always top notch quality panties from Yandy! My girlfriend loves them!
Super soft and comfortable. All the colors are great!
These are cute and surprisingly quite comfortable. No panty lines either, as to be expected.
I absolutely love the lace on this product. It is so fracking soft! I recommend this product, but one thing to keep in mind is the size runs a little small so I would size up next time to be on the safe side.
Soft, nice quality. I received my normal x-small size and it fit well.
I Love these panties. They are comfortable and fit great.
Love this lacey underwear! It is soft, comfortable & I plan to purchase many more in different colors!
Size medium. Hips 35", waist 28". Fits well, very comfy especially for lace.
These are so freaking soft. I got the small and I was a little worried that they''d feel too tight, but it has enough stretch that my lady parts are able to breathe. And the pink is such a cute color.
Was looking forward to more of a traditional thong but this one was a great surprise too.
So light and soft ,feels like nothing is there. Also love that it was free
Pretty piece of lingerie. Simple and comfortable. Love this piece.
Was a free item. It is soft and delicate. No complaints here.
Very nice looking and comfortable. Great price. Would recommend them to others. Size seems to be adequate.
I received these free with more order and you can''t complain about free. But they are nice panties. Basic g string but comfortable.
Nice quality fit my wife great. Will continue to buy more. Love this website
I received a very pretty purple pair. They fit perfect
Panties are all very cute. I adore every style and color available.
Perfect fit love these! Very comfortable for everyday undies.
Great every day underwear. And of course, I love that they''re free!!!
Very comfortable! It fits quite nicely and there no discomfort.
Who doesn''t love a free panty. I received the color purple
She love it and found it comfy. Really. And she is usually not fond of thong.
Love getting these as our little bonus with each package. Very sexy little panties.
Beautiful!! Comfortable & sexy!! Thank you for such a lovely free gift!
Cute, simple, fun and sexy! They are the perfect essential!
So soft and comfortable. Absolutely true to size and made of great material.
my fiance loves this, simple design and does not ride up.
its a good quality and it was free LOVE IT ITS SO FANCY (:
Thanks for the free panty Love them Will definitely be getting The 5 for 20
I first got this panty as a free gift with a previous order. These are so comfortable, I came back online and bought 3 more, plus the free one that came with that order as well. Very soft, cute, comfortable, and doesn't ride up.