Open Toe and Back Ankle Boot
SKU: PR-DELIGHT-1018
$72.95 - $85.95
$77.95
you save $5.00!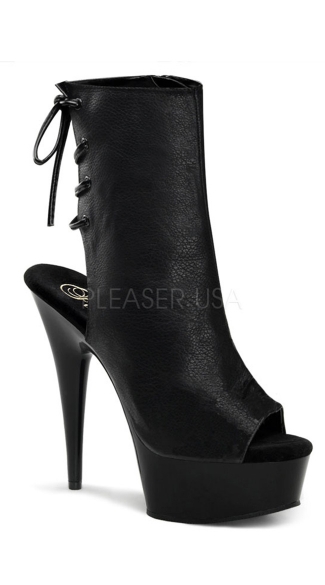 Enjoy a 6 inch heel with open toe and back ankle boot. Features a side zip, and back lace up which makes it a cinch to wear.
CUSTOMER REVIEWS
I love these shoes! They''re my first pair of Pleasers. I''ve never been too good at walking in stiletto high heels, but these are incredibly comfortable and easy to walk in/dance in. The fact that they''re ankle boots mean that they also provide good support. This specific style was recommended to me by a stripper friend; these are the ones that she''s been dancing in for a long while and they hold up very well. Make your legs look absolutely killer, too. Super sexy!
These are beyond serious. The heel height isn''t too crazy and the style is just what I wanted. So very excited about these and the shipping was on time as promised.