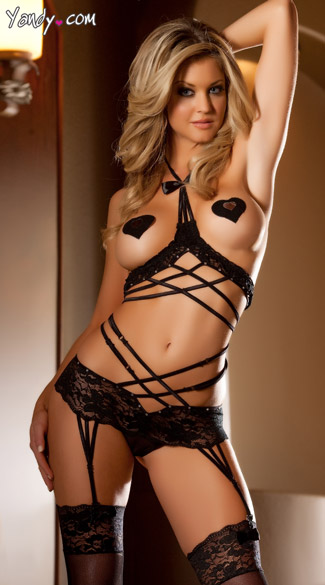 3 piece Racy Bodysuit with adjustable straps criss crossing over the body, lace and rhinestones details. Ties around the neck with adjustable back hook. Stockings and pasties are included.
CUSTOMER REVIEWS
Difficult to get into. Too much criss cross straps to figure out how to get it in to it. Very nice looking if you can decifer the spaghetti mess.
Stockings are cheap quality, without lycra (stretch) and are sized for thighs thinner than mine. I''m 5''5" and weigh 125 lbs. My measurements are 32D-26-36. The sexy factor of this red bodysuit is worth the mind boggling difficulty to figure out how to get into! I ended up tying it around my neck and then stepping into the nest of lace and straps. It was 5:40 am, dark outside and I had to laugh at the hilarity of myself! Be warned, keep the box so you can see how the straps are supposed to wind around your body. I promise, Get this suit, and your partner will be thrilled!
This is amazing. It looks great and the guys go CRAZY for it!