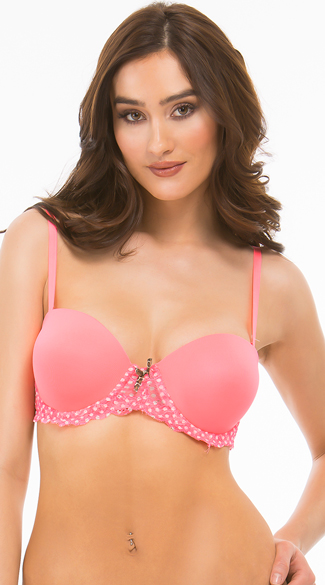 This sexy Spree convertible push-up bra offers endless options and excellent support featuring smooth padded cups with removable straps, a lace underbust band and a hook closure in back.
CUSTOMER REVIEWS
Fits well, and is true to size. Would recommend buying a couple of these if you like the color
Color and fit is perfect. Little pushup added on this bra.
I really love this bra! I will say that the cups are a little bit too small, but this style doesnt come in a 34D so thats why I am rating 4 stars. As a former bra fitter, I will say that normally all strapless bras will run about a cup size smaller, probably for the lower strapless necklines on clothing and to give the extra boost. I dont have any spillage which is what I was expecting, so this bra works just great :) LOVE the generous straps that all of the bras provide, thats a HUGE plus or convertible bras!