Yandy Sizing Guide
Yandy knows to feel comfortable, and look great, you need to find the right fit. The lingerie, activewear, dresses, swimwear, and sexy costumes Yandy offers are all form fitting and tend to run small compared to standard dress, pant, and letter sizing.
Each Product we offer has distinct sizing standards a unique size chart for each item is supply on the product description page.
It is important to know your measurements to find the best fit.
1. To find the most accurate sizing you must have your bust, waist, and hips measurements.
2. Do not use your normal letter, jeans or dress sizes. There is too much variation between designers.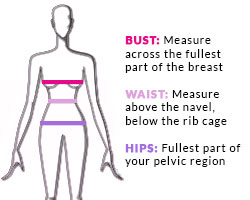 3. Yandy offers numerous brands and designers as a result a distinct size chart is located on each item's description page.
4. If you need to know how to measure to get your appropriate measurements use the diagram to the above or click here for our helpful Video https://www.yandy.com/sizing-guide
5. If you are between sizes it is always better to go larger. You can always take it in. Please keep in mind your bust measurement is not your bra size. It is the measurement of the fullest part of your chest. If you use your bra size it will be too small.
6. One Size Fits Most items are suggested to fit 90lbs - 140lbs. If you are XS, SM, MED, and sometimes LG – a one size fit most should work for you.
7. One Size Fits Most Plus or Queen items are if you have more curves. It is suggested to fit 160lb - 225lbs or a size LG, XL, 1X, 2X, and sometimes a 3X.
8. Corset Sizing. You must measure yourself! Don't Guess! Corset can be one of the hardest pieces of apparel to size. When fitting for a corset, base your purchase off your bust measurements, not your bra size. Your bust is the total circumference of the fullest part of your bust. Select a corset that meets your size requirements, do not purchase a smaller sized corset thinking it will provide more of an hourglass shape. It will be just too tight and unusable. If you select a corset too large it will be too loose to provide the curvy hourglass shape. If you are in between sizes select one sizes down so the corset is extra tight and laces can be used to make any adjustments.
Remember to call the Yandy Customer Service Team 1.800.883.0860, if you have any sizing questions or concerns.