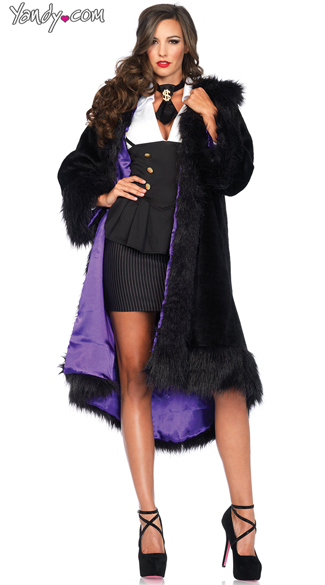 Show off your wealth in this black faux fur coat with plush faux fur trim, purple satin lining and attached tail shawl. (Costume not included.)
+

Size Guide
| Size | Cup | Bust | Dress | Hips | Waist |
| --- | --- | --- | --- | --- | --- |
| S/M | A-B | 32-36 | 2-6 | 34-38 | 23-27 |
| M/L | B-C | 34-38 | 8-12 | 36-40 | 25-29 |
| Size | Cup | Bust | Dress | Hips | Waist |
| --- | --- | --- | --- | --- | --- |
| S/M | A-B US | 81cm - 91cm | 34 - 38 | 86cm - 97cm | 58cm - 69cm |
| M/L | B-C US | 86cm - 97cm | 40 - 44 | 91cm - 102cm | 64cm - 74cm |
| Size | Cup | Bust | Dress | Hips | Waist |
| --- | --- | --- | --- | --- | --- |
| S/M | A-B US | 81cm - 91cm | 6 - 10 | 86cm - 97cm | 58cm - 69cm |
| M/L | B-C US | 86cm - 97cm | 12 - 16 | 91cm - 102cm | 64cm - 74cm |
Having Trouble? Checkout our fit video.
COMPLETE THE LOOK
Machine Gun Molly Costume
Take care of business in this three-piece Machine Gun Molly costume featuring a black and white suspender dress with gold buttons, black arm band and a black tie with dollar sign. (Gloves and hat not included.)
$19.95
$49.95
(60% OFF!)
you save $30.00!
+

Sizing Guide
| Size | Cup | Bust | Dress | Waist | Hips |
| --- | --- | --- | --- | --- | --- |
| S | A-B | 32-34 | 2-4 | 23-25 | 32-36 |
| M | B-C | 34-36 | 6-8 | 25-27 | 36-38 |
| L | C-D | 36-38 | 10-12 | 27-30 | 38-40 |
| Size | Cup | Bust | Dress | Waist | Hips |
| --- | --- | --- | --- | --- | --- |
| S | A-B US | 81cm - 86cm | 34 - 36 | 58cm - 64cm | 81cm - 91cm |
| M | B-C US | 86cm - 91cm | 38 - 40 | 64cm - 69cm | 91cm - 97cm |
| L | C-D US | 91cm - 97cm | 42 - 44 | 69cm - 76cm | 97cm - 102cm |
| Size | Cup | Bust | Dress | Waist | Hips |
| --- | --- | --- | --- | --- | --- |
| S | A-B US | 81cm - 86cm | 6 - 8 | 58cm - 64cm | 81cm - 91cm |
| M | B-C US | 86cm - 91cm | 10 - 12 | 64cm - 69cm | 91cm - 97cm |
| L | C-D US | 91cm - 97cm | 14 - 16 | 69cm - 76cm | 97cm - 102cm |