Yandy - February 9, 2010
Valentine's Day Lingerie for September 14th, 2010
Valentine's Day is fast approaching, and time is running out to get your items to your door by this Saturday February 13th (packages don't come on Sundays). Don't worry, though; there's still plenty of time even if you've forgotten. Yandy's got your back with the fastest turnaround and lowest prices in the business. We're guaranteeing that orders will arrive on time if placed before Wednesday afternoon at 3:30pm (Pacific time).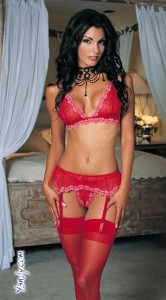 Free Shipping and Low Prices
As always, you'll receive free shipping on all orders above $70, and our prices are low enough to ensure a complete, sexy lingerie outfit for under $100. Visit our
Valentine's Day selection
right now and make it a happy, stress free day of ecstasy.