Here we have our top 3 sellers; the Leopard Mini Dress with Lace Skirt, Charmeuse Babydoll and Matching Robe, and our Sheer Garter Dress.
Our #3 top seller is The Sheer Garter Dress, superbly priced at $14.95 and comes in 3 luscious colors; red, black, and white. This dress has soft lace trim and attached stockings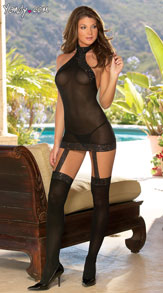 Now it's easy to see why the Charmeuse Babydoll with Matching Robe is our #2 best seller. It's lightweight and oh so comfortable, also it comes in seven ravishing colors; black, blue, pink, purple, red, white, and fuchsia. This lovely piece is priced at $19.95 and would make a perfect gift for a bride-to-be, expectant mother, or just because.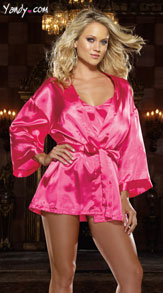 And now for our #1 top seller, the ferocious Leopard Mini Dress with Lace Skirt. This sexy mini lingerie dress is perfect for that wild side. Low cut in the front to give that tantalizing peek at your upper torso nestled between sexy strips of leopard print. This stunning little dress is outrageously priced at $11.95.