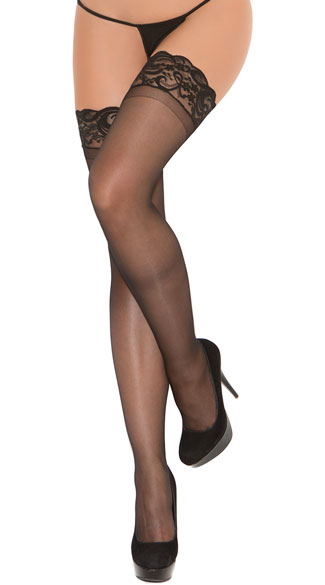 Sheer thigh high stockings with stay up silicone lace top. Includes thigh high stockings only.
CUSTOMER REVIEWS
I like the rubber grips on stockings. They stay up.
Very comfortable. Can run a little small but the lace at the top is cute and actually helps the stockings to stay put. I am very happy with these.
Just like the picture and they stay up quite well!
Bought these to complete outfits for my lovely bride. Seems to be great quality and good fit.
The perfect accessories! however it looks a little tighter the higher you go. Still looked great though.
These are so far the best quality stockings I''ve ever gotten! You can feel how strong they are as soon as you slide them on.
I love how these stay up and don''t slide down, and they also don''t feel too tight.
LOVE these stockings! A nice compliment to many outfits. I ordered most colors as when you want them, you want them ready in your drawer. A great basic!!
Like the name implies, these stockings are "stay up" and fit very well.
Perfect pair of stockings, can''t go wrong with these.
These are great. They tend to last 3-4 wears before they run.
I love love love these! I have gymnast thighs, so they tend to be on the larger side. And I could never find thigh highs that stayed. These on the other hand stay up through anything! Love love love! I am definitely getting more!
Love these! The no slip grip is amazing! They pair great with the black lace bra set. My husband thinks these look great as well!
wear it to your first private date,if you know what I mean.