GUARANTEED HALLOWEEN DELIVERY | FREE SHIPPING ON ALL REGULAR PRICED COSTUMES!

Spree Smooth Push-Up T-Shirt Bra
SKU: SG-2221
$9.95
$19.95
(50% OFF!)
you save $10.00!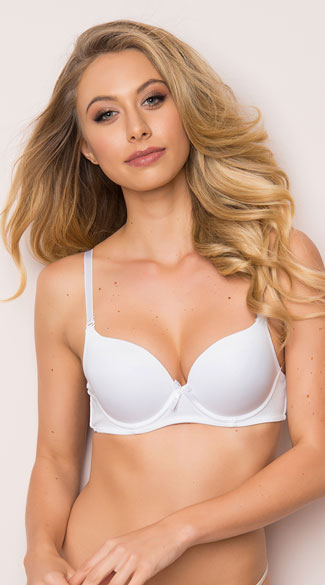 This cute and comfy Spree t-shirt bra features push-up underwire cups, adjustable spaghetti straps, a satin bow accent, and a hook and eye back closure.
CUSTOMER REVIEWS
Fit was perfect and very comfortable. Have also ordered in the other colors and love them all
Perfect fit. Looks exactly as the picture shows! Very happy here.
my wife enjoyed the fit and comfort of the spree smooth-push up T- shirt bra
I was quite impressed with the comfort and fit. At the price, I wish I could have had more colors. But overall I''m very satisfied.
I have a hard time finding bras that have a good fit and don''t leave an obnoxious line across the front of my shirt. This one give me enough push up for my "swooping" breast shape and the cup comes up high enough that I can wear my tighter shirts without worrying about said line ( I LOVE this). It does run a bit small in the band (my size is 34c), but I noticed that the straps are removable/multi way, so maybe the tightness is in case you go strapless? It isn''t painful, it doesn''t bother me as I liken it to a hug, though one might want to get a bra extender. I''ll get more of these when I can!
hard to find a comfortable and pretty bra in white, but this one is perfect. i just love it
Great fit and style very smooth and comfortable. Will buy more!
Didn''t realize it was a push-up bra but it is surprisingly comfortable! Great material too!
Wife likes the fit, loves the design in the back, will b buying again for her
perfect! Size was great & just what i expected. So glad i got them on sale.
I love this bra. It fits great and is super comfy.
Nice simple sexy bra to hold up the ''girls''. ;) Provides good support
Very comfortable. Fits well and doesn''t dig into you. Straps a tiny bit wider than most bras in my size which i love.
One of the most comfortable bras I have ever bought. I would highly recommend this bra.
Fit was perfect comfortable and could ware it with anything.
very nice comfortable bra for a super low price, really great
Cute basic bra that I would definitely get in more colors. I got this bra in the pink (labeled pink, not the coral), and it is a great shade of bright, hot, almost-neon pink. The sides and back sit smoothly and don''t ride up. The underwire seems a bit thicker than average and digs just a little on me, but it does give a nice push-up. Cups are full enough to feel secure, but still show nice cleavage.
Very comfortable! Competes with Victoria Secret T shirt bras! :D
I needed a nice basic bra for everyday necklines and I think this T-shirt bra is gonna be it. I love it! The cups are just the right amount of coverage without making me feel like the bra is swallowing my breasts and chest. I have never had a T-shirt style bra before because the name of the cut made me think of a full coverage. I was gladly proven wrong. I love this cut and it''s going to be my favourite everyday bra!
Got jade and coral in two different sizes - the sizes seem to be accurate