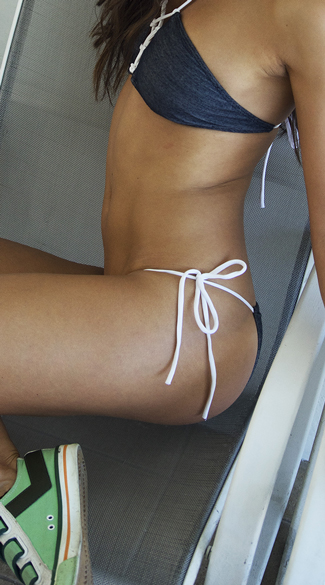 Make a splash in this cute denim bikini bottom featuring white side ties and a cheeky cut back. (Top not included.)
+

Size Guide
| Size | Hips | Bust |
| --- | --- | --- |
| X-Small | 30" - 31" | 28" - 29" |
| Small | 32" - 33" | 30" - 31" |
| Medium | 34" - 35" | 32" - 33" |
| Large | 36" - 37" | 34" - 35" |
| Size | Hips | Bust |
| --- | --- | --- |
| X-Small | 76cm - 79cm | 71cm - 74cm |
| Small | 81cm - 84cm | 76cm - 79cm |
| Medium | 86cm - 89cm | 81cm - 84cm |
| Large | 91cm - 94cm | 86cm - 89cm |
| Size | Hips | Bust |
| --- | --- | --- |
| X-Small | 76cm - 79cm | 71cm - 74cm |
| Small | 81cm - 84cm | 76cm - 79cm |
| Medium | 86cm - 89cm | 81cm - 84cm |
| Large | 91cm - 94cm | 86cm - 89cm |
Having Trouble? Checkout our fit video.
COMPLETE THE LOOK

Lace-Up Denim Bikini Top
Bring your love of denim to the beach in this flirty bikini top featuring denim cups, a white lace-up front detailing, halter straps, and a tie back closure. (Bottoms not included.)
$48.95
$65.95
(25% OFF!)
you save $17.00!
+

Sizing Guide
| Size | Hips | Bust |
| --- | --- | --- |
| X-Small | 30" - 31" | 28" - 29" |
| Small | 32" - 33" | 30" - 31" |
| Medium | 34" - 35" | 32" - 33" |
| Large | 36" - 37" | 34" - 35" |
| Size | Hips | Bust |
| --- | --- | --- |
| X-Small | 76cm - 79cm | 71cm - 74cm |
| Small | 81cm - 84cm | 76cm - 79cm |
| Medium | 86cm - 89cm | 81cm - 84cm |
| Large | 91cm - 94cm | 86cm - 89cm |
| Size | Hips | Bust |
| --- | --- | --- |
| X-Small | 76cm - 79cm | 71cm - 74cm |
| Small | 81cm - 84cm | 76cm - 79cm |
| Medium | 86cm - 89cm | 81cm - 84cm |
| Large | 91cm - 94cm | 86cm - 89cm |