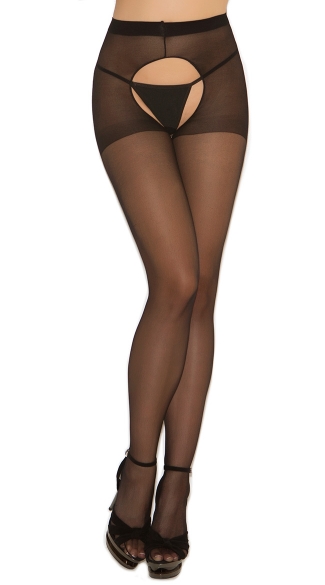 Spice up your night with these sheer crotchless pantyhose! (Panty not included)
CUSTOMER REVIEWS
My girlfriend really liked this item Me too! She found them very accommodating in the restroom.
Exactly what we expected, the color and fit are super sexy
Just the right amount of sheer black, good product.
Wife loves it with a short skirt and 5 inch heels!
OMG. so very comfortable. these make life so much more pleasant!!
i loved it. the only thing is they rip easy so be careful. other then that, they are great. may get in other colors.
Very well made, quality product. Slightly short in the waist for me but well within the stretch factor.<br /> Very comfortable and sexy too.<br /> Makes one wonder why all pantyhose aren''t crotchless like these. So practical.<br><br> <b style="font-size: 17px;">RATING 5</b>
Pretty comfortable and definitely gets the job done that it needs too.
Fairly mediocre quality, but not too surprising given the price. But if you''re looking for something specifically crotchless, this definitely does the job!
Love the feel and the look. I got this to wear with Yandy''s Low Rise Mini Skirt,The Chandra Red Bra and matching panty.
It was okay, the crotchless part gets a bit difficult to align properly