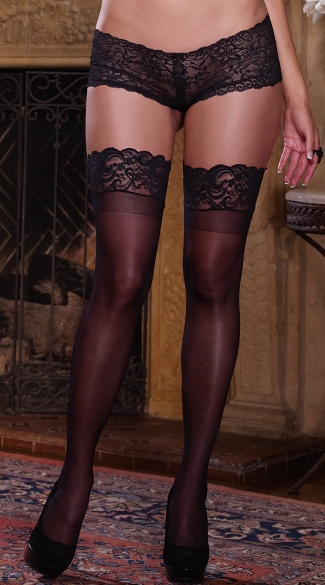 Plus Size Sheer Thigh High Stocking with Stay up Silicone Lace Top. (Thong Not Included)
A little thigh never hurt anyone!
+

Size Guide
| Size | Hips | Inseam | Waist | Weight |
| --- | --- | --- | --- | --- |
| Plus Size | 42-56 | 36.5 | 36-44 | 160-200 |
| Size | Hips | Inseam | Waist | Weight |
| --- | --- | --- | --- | --- |
| Plus Size | 107cm - 142cm | 93cm | 91cm - 112cm | 72 - 90 kg |
| Size | Hips | Inseam | Waist | Weight |
| --- | --- | --- | --- | --- |
| Plus Size | 107cm - 142cm | 93cm | 91cm - 112cm | 72 - 90 kg |
Having Trouble? Checkout our fit video.
CUSTOMER REVIEWS
Absolutely perfect!!! I really loved these and they fit very well!
great look, great feel, and fit perfectly! absolutely love them!
Good fit and quality. Delivered quickly. Thank you!
Thought I''d try a plus size since the others squeeze too much at the top. A little big, but work great. Comfy.
Fit perfectly! I was pleasantly surprised as I have very large thighs.
great quality and the lace is perfect, perfect for gartered lingerie
Goes perfectly with other purchases, fits over my wider calves
Sexy! I love them, they go with everything. I am so glad I purchased them
These thigh-highs actually stay up! My wife loves them, and I think they look great. Everybody is happy.
A little big but still quality material, stays up.
Love them, good fit, a bit tight around the thighs so you get that little bulge, but what pair doesn''t do that.
Never thought that I would find thigh highs that would fit but these are perfect! Love the silicone lace top!
These awesome stockings get the job done. I would not hesitate to buy these again.
These stockings are very pretty and soft. The silicone helps them stay up and not roll down. Very good for the money.
bought these for my wife....fit as said, quality product.
I have curvy thighs and these are great. they stay up and don''t squeeze me at the lace top which I have had a problem with in the the past. I would highly recommend.
My wife loves how comfortable they feel and goes great with one of her new sexy outfits!
Love the stay up silicone i purchase the regular thigh high stocking in these to see the difference the thigh high did fall down constantly whereas stay up silicone actually stayed n place without my garters I recommend this over regular thigh highs
I received this, well packaged and protected. They fit great but I think my things are a *bit* too big because they still won''t stay up. But no matter, I planned on using garter straps anyways. Love ''em!
The silicon tops ensure that the stocking actually stay up. I get Plus size because I''m tall at 5''11", and your regular stoking are too short for my long legs. Same goes for Yandy.com pantyhose. I prefer the Dreamgirl brand.
very nice stockings that stayed up well even when really active
stayed up & were sexy...the color was perfect. thanks yandy!
I''ve been looking for thigh highs that stay up and these are perfect! They even stayed up with heels on , walking and dancing for at least 2 hours. I need more!
most comfortable stockings I have ever worn! I''d recommend to anyone.
They stay up well and work great with garters. Id gladly buy more the next time that i meed them.
I love these so much I always buy a couple of pairs with every purchase. The silicone really works to keep from slipping and gives it a nice look!
These look nice, fit okay and seems like it will stay in place.
These really do stay up. Good for the price and reliable.