GUARANTEED HALLOWEEN DELIVERY | FREE SHIPPING ON ALL REGULAR PRICED COSTUMES!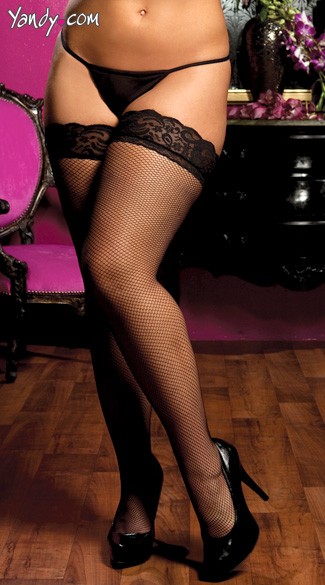 Plus size, fishnet, thigh high stockings with lace top. Panty not included
+

Size Guide
| Size | Bust | Dress | Cup | Hips | Waist |
| --- | --- | --- | --- | --- | --- |
| Queen | 38-54 | 16-20 | C-DD | 42-56 | 34-44 |
| Size | Bust | Dress | Cup | Hips | Waist |
| --- | --- | --- | --- | --- | --- |
| Queen | 97cm - 137cm | 48 - 52 | C-DD US | 107cm - 142cm | 86cm - 112cm |
| Size | Bust | Dress | Cup | Hips | Waist |
| --- | --- | --- | --- | --- | --- |
| Queen | 97cm - 137cm | 20 - 24 | C-DD US | 107cm - 142cm | 86cm - 112cm |
Having Trouble? Checkout our fit video.
CUSTOMER REVIEWS
I absolutely loved the material and the elastic band at the top was perfect. The only problem was that they ripped immediately...but you get what you pay for. Next time I will know how fragile they are.
Stockings are awesome and they are a great size and fit. I will be ordering more.
They are everything I expected good fit perfect size good price
love the all white lace and fishnet they stay up on me without a garder belt to support it love the fit over my lage thighs want to get the other colors thank you yandy
The stockings were comfortable and fit true to size.
The lace top was too tight. Beautifully made stocking though.
Thick calf and thighs fits for the most part but can still use it need be
They''re surprisingly comfortable and don''t slip. I was originally skeptical about the sizing but it ended up being perfect. I would definitely recommend it.
These are beautiful and fit great. I loved them and so did my boyfriend
Awesome fit liked them alot will reorder these again in other colors
Nice stockings. Very sexy. Actually stayed up with the garter belt.
loved these! fit perfectly, and good quality. can pair them with any costume
These are my favorite, the bigger band stays up around my thighs
They are cute, but they don''t stay up very well unless clipped to a garter belt.
Crazy comfortable, the lace top is the perfect size if you''re on the smaller side of plus size clothes, doesn''t dig in and looks smooth all over!
good quality stockings for the price. ran a little small
My wife loves the color. Fits very good and looks good on her. Yandy is my favorite online store and the best online store.
I absolutely love the lace top stockings, they were super comfy and didn''t even feel like I had anything on. Would definitely buy some more.
These are exactly as they are described. Fit well for a plus size.
I wore these to a dance class and they stayed up the entire time. :)
I really liked these! but I sadly ripped a hole on the middle part of the stockings and then it got bigger after I continued to wear it! so word of advice be gentle when taking these on and off lol
very cute thigh highs, especially for plus size fit very true to size. Stay up well with or without garters.
Love these thigh highs...they are so sexy!! The fit is absolutely perfect
I love these!! They''re super comfy and I like the way they look on my legs
I love these thigh high stockings. They fit really nice and the lace part isn''t too tight.
They stayed on the whole time and I loved it. Not a single tear or rip was in them.
They don''t really stay up. They keep rolling every time i try to wear them. Maybe i got the wrong size
Perfect for day or night and the fit is prefect and every comfortable and every stylish
The fit was perfect! There were no issues with the fabric whatsoever ever, and made out of good quality material
Really cute, super comfortable, I think this was a great deal,only problem is that this lace top and stocking came apart really soon. Wasn't really a big deal since i was able to sew it back easily.
Surprisingly comfortable and very attractive!