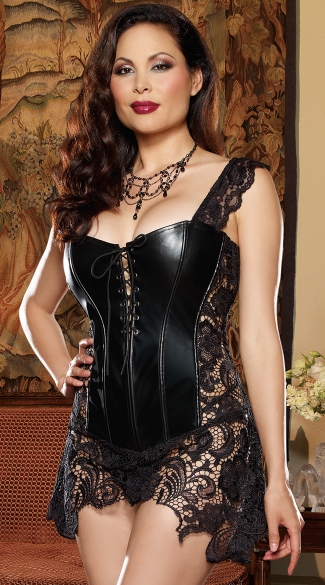 Command attention in this plus size faux leather corset with attached black Venice lace, lace-up front, cap sleeves, zip up back and thong.
CUSTOMER REVIEWS
I love this Corset. I usually wear a 38, it fit the bust but not my waist, so I ordered the 40. It fit my waist, but a little loose in the bust. I look good in both of them, but kept the 40. After I loose a few lbs I''ll reorder the 38. ❤❤❤
Omg yes yes yes I so love it it fits well and again it looks just like the picture I have no complaints from​ my order.
<textarea id="upd27317" name="upd27317" rows="5" cols="35" onblur="updatebox('27317')">Omg loved the whole corset very well produced and it looked exactly like it was on line can''t wait to wear it<br><br> <b style="font-size: 17px;">RATING 5</b>
Perfect in every way. I adore this outfit. Will definitely buy again
its so beaufully but it runs to small didnt fit from the bust size
Love the quality and construction, but did run small despite being sized by chest measurement. I wear a 42DD and ordered a 42 and couldn''t even get it close to zipping. Returning for a 44 and fingers crossed it fits!
These run very small! I ordered a 44 and still too small I wear an 18 and cant even wear too small around back cant zip..needs about 5-6 more inches of material to fit..
I love this corset! the lace is just fabulous!! It's so pretty and soft and just stunning.