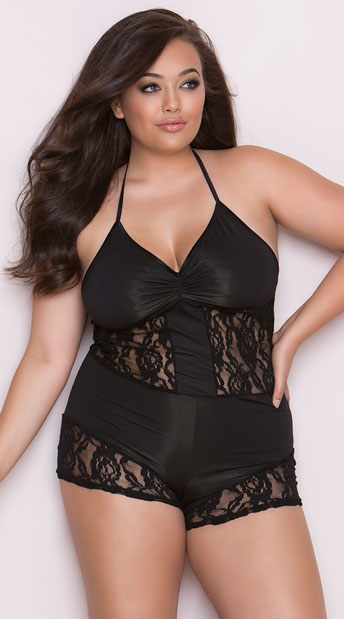 Get cheeky in this sexy romper featuring a black romper with black ruched v-neckline, halter straps, lace inserts, and a black mesh bodice panel. (Belt and jewelry not included.)
+

Size Guide
| Size | Cup | Bust | Dress | Hips | Waist |
| --- | --- | --- | --- | --- | --- |
| 1X | C | 39-42 | 16-18 | 41-44 | 31-34 |
| 2X | C-D | 42-45 | 20-22 | 44-47 | 34-37 |
| 3X | D | 45-48 | 22-24 | 47-50 | 37-40 |
| Size | Cup | Bust | Dress | Hips | Waist |
| --- | --- | --- | --- | --- | --- |
| 1X | C US | 99cm - 107cm | 48 - 50 | 104cm - 112cm | 79cm - 86cm |
| 2X | C-D US | 107cm - 114cm | 52 - 54 | 112cm - 119cm | 86cm - 94cm |
| 3X | D US | 114cm - 122cm | 54 | 119cm - 127cm | 94cm - 102cm |
| Size | Cup | Bust | Dress | Hips | Waist |
| --- | --- | --- | --- | --- | --- |
| 1X | C US | 99cm - 107cm | 20 - 22 | 104cm - 112cm | 79cm - 86cm |
| 2X | C-D US | 107cm - 114cm | 24 - 26 | 112cm - 119cm | 86cm - 94cm |
| 3X | D US | 114cm - 122cm | 26 | 119cm - 127cm | 94cm - 102cm |
Having Trouble? Checkout our fit video.
CUSTOMER REVIEWS
Love it! I wear it at least once every two weeks. It is cool at night and not difficult to take on and off for night time bathroom breaks.
Delivered promptly as promised. Looks really great on my fiance and makes her sexy as hell.
Love, Love Love Love. I wish there were other colors This is so multipurpose. You can also use it as outerwear