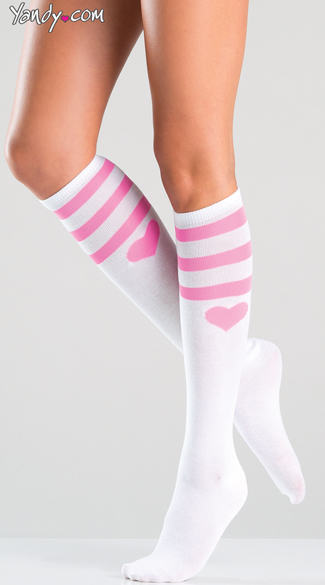 These white athletic knee highs feature an adorable pink heart design with pink stripes.
CUSTOMER REVIEWS
ADORABLE!!!!!!!!! Soft, comfortable socks with a cute design. I love knee highs. So that''s a plus.
I got these because they looked cute. They wear a little stiff out of the package but washing them helped.
Sadly these socks were a bit too small for me. I should have known because I always have issues with this type of material but the print was just too hard to pass up.
Sporty looking, pink and white, and knee highs. What else is there to say, super cute!
The pink is more fluro than pastel, but they''re comfortable.
Please are really versitle. I like the design they''re really well-made and have held up great after three washes
These socks are super cute but if you aren''t working for a thick sock, this is not it. It is thinner than the other athletic socks sold on the site. I like it because it can be worn in the summer and will be cooler than the other socks
wife looks supper hot in this outfit color fit who doesn''t like thighs