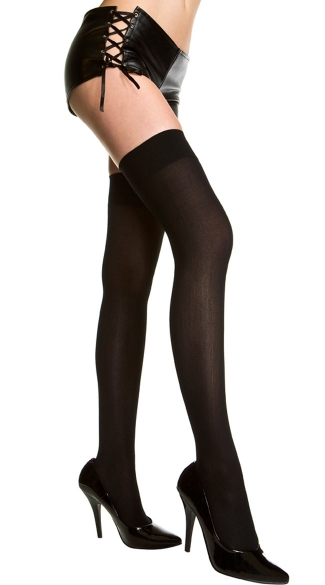 These opaque thigh highs feature a solid top band and comes in a variety of colors to match your outfit or costume!
CUSTOMER REVIEWS
Perfect fit. Comfortable. Exactly what I was looking for.
Love this ones specially in this fall weather, I will order the rest of colors
I love these BABY PINK thigh highs. Looks great with the baby pink heels I also got from Yandy.
Okay, but not for someone with thicker thighs. Plus size probably would have been better fit.
Great! No complaints! The Yandy standard thigh highs and tights are a consistent purchase of mine, I can''t get over the variety of colors!
I ordered the baby pink ones, and they look very cute! Perfect when paired with white or more pink.
Excellent customer service via "Chat", affordable products, very good quality and prompt delivery!
These fit GREAT. Didn''t have an issue with them staying up and they complimented my outfit PERFECTLY. Will definitely be buying more colors!!
Stays up on my big thighs, super cute! True to color
I love these, Im thinking about getting more soon but I have so many stockings right now lol.
Very nice and sexy thigh highs. I''d recommend this product.
Fits nice and looks good. My wife loves this. Yandy is the best online store.
Picture is true to size. Love this little piece. Would recommend!
Great price & quality. I ordered three different colors to go with some of my YANDY outfits. So easy to create the look you want when you are shopping on YANDY. One stop shop.
I think I was expecting them a bit darker but that''s okay, they are still quite nice and go well with my other stuff
I like the variety of colors to choose from. Stretch pretty well; no runs as of yet. My thighs are a little thick so they tend to roll after a while but I expected as much; they still look good.
These are a staple for me. I get a few pairs every time I order from Yandy.
Bought these in red and white and i like them. Good quality and good elastic. Recommended!
I have fairly long lean-muscular legs and a smaller waist. These leggings sorta fit but had to stretch a little too much
Opaque thigh highs are the perfect edition for any dress, skirt, shorts and look great with boots!