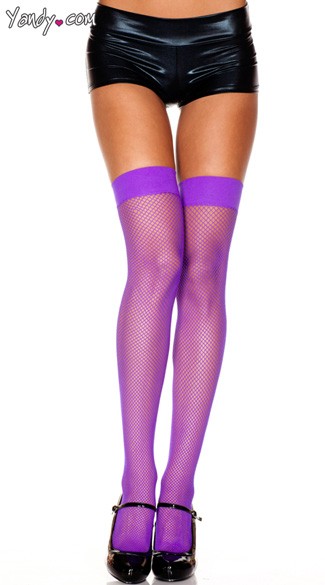 These neon fishnet thigh highs feature a solid top and are the perfect finishing touch on your outfit or costume! (Shorts not included.)
CUSTOMER REVIEWS
The neon blue didn''t glow under a blacklight but they stay up without garters and fit great. The blue color I wasn''t too sure about at first but they wound up being fun and playful. I really like these!
I ordered these to go with a short dress, they are so sexy.
for the price you really cant beat these fishnets, im considering getting another pair or pairs in other colors since theyre so good - again, cant beat the price!!!
A nice pair of stockings to complete any outfit, and who could compare to Yandy''s prices and customer service?
Very nice and sexy thigh highs. I''d recommend this product.
I go thru these hose, the quality is good. They are just easier to find here than I n a store
Lovely item! perfect for any sexy outfit, quality is quite good.
Gifted this to a friend, but she is very pleased with them.
These sexy stockings difinately add a noce touch to black items and match with some other hot pink thimgs I already nave. A fun item to add to tour wardrobe
These specific thigh highs are not supposed to be for bigger women, they kept falling down all night long at a festival that I went to, so it was pretty annoying. I wish they had them in plus size. Other than that, I''m sure they would be fine to wear for anyone else