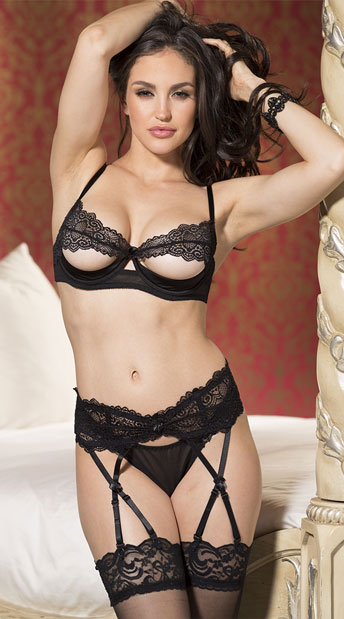 Complete your lingerie ensemble with this lace garter belt featuring multi-strapped adjustable garters and a hook and eye back closure. (Bra set and thigh high stockings not included.)
+

Size Guide
| Size | Cup | Bust | Dress | Hips | Waist |
| --- | --- | --- | --- | --- | --- |
| S | A-B | 32-34 | 6-8 | 34-36 | 23-25 |
| M | B-C | 34-37 | 10-12 | 36-39 | 25.5-28 |
| L | C | 37-40 | 14 | 39-41 | 28-31 |
| XL | C | 40-43 | 16 | 41-44 | 31-34 |
| Size | Cup | Bust | Dress | Hips | Waist |
| --- | --- | --- | --- | --- | --- |
| S | A-B US | 81cm - 86cm | 38 - 40 | 86cm - 91cm | 58cm - 64cm |
| M | B-C US | 86cm - 94cm | 42 - 44 | 91cm - 99cm | 65cm - 71cm |
| L | C US | 94cm - 102cm | 46 | 99cm - 104cm | 71cm - 79cm |
| XL | C US | 102cm - 109cm | 48 | 104cm - 112cm | 79cm - 86cm |
| Size | Cup | Bust | Dress | Hips | Waist |
| --- | --- | --- | --- | --- | --- |
| S | A-B US | 81cm - 86cm | 10 - 12 | 86cm - 91cm | 58cm - 64cm |
| M | B-C US | 86cm - 94cm | 14 - 16 | 91cm - 99cm | 65cm - 71cm |
| L | C US | 94cm - 102cm | 18 | 99cm - 104cm | 71cm - 79cm |
| XL | C US | 102cm - 109cm | 20 | 104cm - 112cm | 79cm - 86cm |
Having Trouble? Checkout our fit video.
COMPLETE THE LOOK

Peekaboo Lace Bra Set
Treat yourself in this sexy lingerie set featuring an open cup, underwire shelf bra with sheer lace detailing, adjustable spaghetti straps, a hook and eye back closure, and a matching panty with a a lace waistband, back keyhole cut-outs, and a thong cut back.
$29.95
+

Sizing Guide
| Size | Cup | Bust | Dress | Hips | Waist |
| --- | --- | --- | --- | --- | --- |
| S | A-B | 32-34 | 6-8 | 34-36 | 23-25 |
| M | B-C | 34-37 | 10-12 | 36-39 | 25.5-28 |
| L | C | 37-40 | 14 | 39-41 | 28-31 |
| XL | C | 40-43 | 16 | 41-44 | 31-34 |
| Size | Cup | Bust | Dress | Hips | Waist |
| --- | --- | --- | --- | --- | --- |
| S | A-B US | 81cm - 86cm | 38 - 40 | 86cm - 91cm | 58cm - 64cm |
| M | B-C US | 86cm - 94cm | 42 - 44 | 91cm - 99cm | 65cm - 71cm |
| L | C US | 94cm - 102cm | 46 | 99cm - 104cm | 71cm - 79cm |
| XL | C US | 102cm - 109cm | 48 | 104cm - 112cm | 79cm - 86cm |
| Size | Cup | Bust | Dress | Hips | Waist |
| --- | --- | --- | --- | --- | --- |
| S | A-B US | 81cm - 86cm | 10 - 12 | 86cm - 91cm | 58cm - 64cm |
| M | B-C US | 86cm - 94cm | 14 - 16 | 91cm - 99cm | 65cm - 71cm |
| L | C US | 94cm - 102cm | 18 | 99cm - 104cm | 71cm - 79cm |
| XL | C US | 102cm - 109cm | 20 | 104cm - 112cm | 79cm - 86cm |
Sheer Thigh High with Stay up Silicone Lace Top
Complete your sexy ensemble in these sheer thigh high stockings featuring a stay-up silicone lace top. (Panty and garter belt not included.)
$9.99
OR

3 for $24
+

Sizing Guide
| Size | Cup | Dress | Hips | Bust | Waist |
| --- | --- | --- | --- | --- | --- |
| One Size | B-C | 2-14 | 34-40 | 32-38 | 24-32 |
| Size | Cup | Dress | Hips | Bust | Waist |
| --- | --- | --- | --- | --- | --- |
| One Size | B-C US | 34 - 46 | 86cm - 102cm | 81cm - 97cm | 61cm - 81cm |
| Size | Cup | Dress | Hips | Bust | Waist |
| --- | --- | --- | --- | --- | --- |
| One Size | B-C US | 6 - 18 | 86cm - 102cm | 81cm - 97cm | 61cm - 81cm |