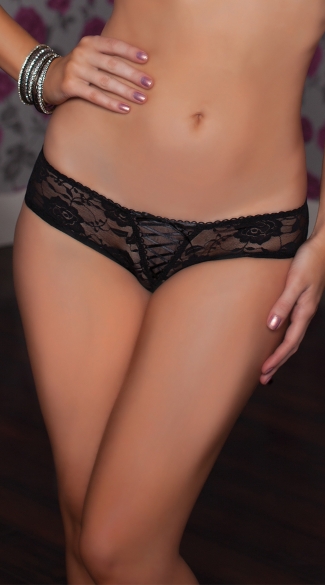 This sexy lace panty features an open crotch, front lace-up detail and satin bow. (Includes panty only.)
+

Size Guide
| Size | Waist | Hips | Bust | U.S. Sizes |
| --- | --- | --- | --- | --- |
| Small | 24.5-25.5" | 35-36" | 33-34" | 3-5 |
| Medium | 26-27" | 36.5-37.5" | 34.5-35.5" | 6-8 |
| Large | 28-29" | 38-39" | 36-37" | 9-12 |
| XL | 30-32" | 40-42" | 38-39.5" | 13-16 |
| Size | Waist | Hips | Bust | U.S. Sizes |
| --- | --- | --- | --- | --- |
| Small | 62cm - 65cm | 89cm - 91cm | 84cm - 86cm | 3-5 US |
| Medium | 66cm - 69cm | 93cm - 95cm | 88cm - 90cm | 6-8 US |
| Large | 71cm - 74cm | 97cm - 99cm | 91cm - 94cm | 9-12 US |
| XL | 76cm - 81cm | 102cm - 107cm | 97cm - 100cm | 13-16 US |
| Size | Waist | Hips | Bust | U.S. Sizes |
| --- | --- | --- | --- | --- |
| Small | 62cm - 65cm | 89cm - 91cm | 84cm - 86cm | 3-5 US |
| Medium | 66cm - 69cm | 93cm - 95cm | 88cm - 90cm | 6-8 US |
| Large | 71cm - 74cm | 97cm - 99cm | 91cm - 94cm | 9-12 US |
| XL | 76cm - 81cm | 102cm - 107cm | 97cm - 100cm | 13-16 US |
Having Trouble? Checkout our fit video.
CUSTOMER REVIEWS
Thought these looked good when I saw them, so much sexier and flirty when you put them on. Got the lime one to wear with a green dress & heels I got from Yandy.
These crotchless lace panties are so sexy and comfortable. Fits perfect and looks great. So much fun to wear for panty lovers.
Absolutely FANTASTIC panties. I normally stray from crotchless panties because the hole is either wayyy too small or it starts too high up. These are perfect. The lace is comfortably stretchy, the lace up detail is SEXY! I absolutely adore these panties, they are incredible!
I love these! They fit perfectly and they are super cute!