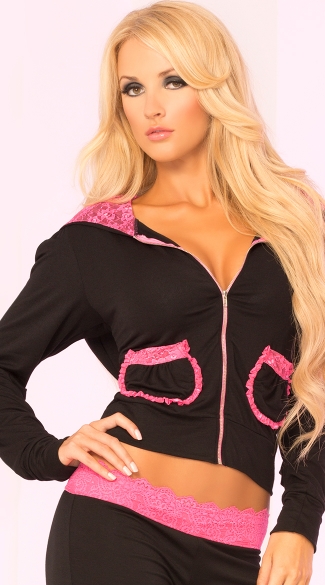 Comfy long sleeve, front zip up hoodie with pink lace trim pocket detailing, a pink zipper, and a lace pink lining inside hood.
(Pants not included.)
+

Size Guide
| Size | Weight | Waist | Bust | Hips |
| --- | --- | --- | --- | --- |
| Small | 90-120 | 24"-26" | 34"-34" | 34"-38" |
| Medium | 120-140 | 26"-28" | 34"-36" | 36"-38" |
| Large | 140-160 | 28"-30" | 36"-38" | 38"-40" |
| Size | Weight | Waist | Bust | Hips |
| --- | --- | --- | --- | --- |
| Small | 41 - 54 kg | 61cm - 66cm | 86cm - 86cm | 86cm - 97cm |
| Medium | 54 - 63 kg | 66cm - 71cm | 86cm - 91cm | 91cm - 97cm |
| Large | 63 - 72 kg | 71cm - 76cm | 91cm - 97cm | 97cm - 102cm |
| Size | Weight | Waist | Bust | Hips |
| --- | --- | --- | --- | --- |
| Small | 41 - 54 kg | 61cm - 66cm | 86cm - 86cm | 86cm - 97cm |
| Medium | 54 - 63 kg | 66cm - 71cm | 86cm - 91cm | 91cm - 97cm |
| Large | 63 - 72 kg | 71cm - 76cm | 91cm - 97cm | 97cm - 102cm |
Having Trouble? Checkout our fit video.
CUSTOMER REVIEWS
This has easily become my fav hoodie! I wore it out to an event at a club and I was pleasantly surprised that it glows like crazy in the black light! I LOVE THE LOUNGEWEAR by this brand <3
Comfy fresh and warm when need it, cool for exercise or for staying at home, the zipper could have been better tho.
nice and comfy it is soft and perfect for lounging around the house or pool deck at night i got the matching pants too.