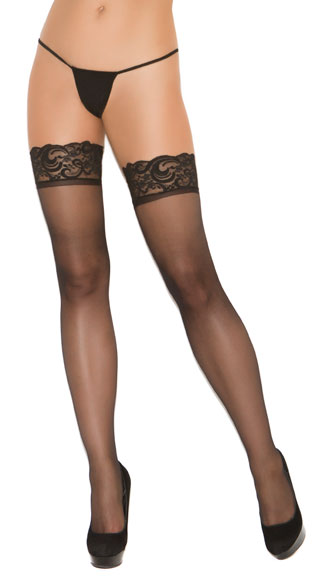 Sheer backseam thigh high stockings with lace top.
CUSTOMER REVIEWS
A wonderful addition to my collection. Perfect fit and is like icing on the cake to go along with my new outfits.
Sheer silky stockings with beautiful lace top and good fit. Loved how they made my legs look and price was great!
These are great quality and very soft. They work great with garters but stay up without them. They are a must have!!!
these are lovely they feel so nice against my legs
Met my expectations. The material is well made and the fit is great.
Very sexy and I loved the little lining detailed running up the back. It looked BoMb with my Lacey chemise and the garters.
Decent stockings for the price. The stocking tops are snug but not constricting. The material is silky and feels nice to wear. The tops hold up well with garter clips - no runs in mine after a few wears. I''d order them again.
Really nice finish to the stockings – they're more They come in a little cardboard sleeve with really nice imagery on the front and they're wrapped up inside in a polythene packet so there's no chance of them ripping against any corners of the cardboard. Fit was fine – one size fits all always worries me but they were alright. I moved them about a bit when first putting them on They're not sticky at the top Really smooth and fine feel to them, no holes after a night on dancing plus they stayed up with no suspender belt or need to hitch them up half way through, that's definitely success in my book!
Beautiful stockings at a great price. Perfect for my photoshoot.
Love these!! Excellent quality and wears well!! They stay up even when your not wearing a gater belt!!
Very sexy and soft. Just the perfect fit. Only problem was it slid down alot but otherwise very lovely.
Love these. So cute on! I was worried on them being too short because I have long legs. 5''8"... but they were perfect length and fit!
These thigh highs are very classy. They are sheer and fit well. Very nice!
I have thicker thighs and am shorter so I found myself having to wear them lower than I usually like, but they are incredibly comfortable and so versatile.
Good product for the money. Color looks a little different but still cute and flattering