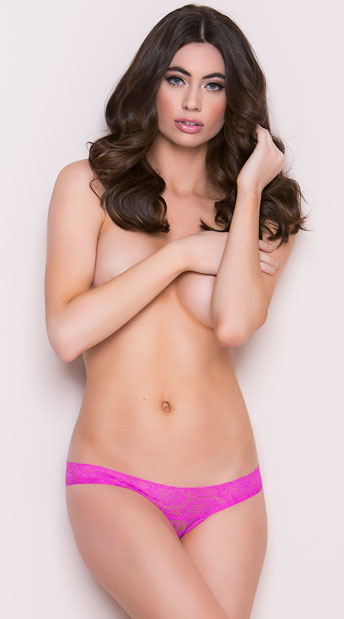 QUANTITY:
Sexy, soft and comfortable, these Yandy exclusive panties feature a full back, all over lace and a thick lace band.
+

Size Guide
| Size | Bust | Hips | Waist |
| --- | --- | --- | --- |
| XS | 33.5-34.5 | 36-37 | 25.5-26.5 |
| S | 34.5-35.5 | 37-38 | 26.5-27.5 |
| M | 36.5-38 | 39-40.5 | 28.5-30 |
| L | 39.5-41 | 42-43.5 | 31.5-33 |
| XL | 42-43.5 | 44-45.5 | 34-35.5 |
| Size | Bust | Hips | Waist |
| --- | --- | --- | --- |
| XS | 85cm - 88cm | 91cm - 94cm | 65cm - 67cm |
| S | 88cm - 90cm | 94cm - 97cm | 67cm - 70cm |
| M | 93cm - 97cm | 99cm - 103cm | 72cm - 76cm |
| L | 100cm - 104cm | 107cm - 110cm | 80cm - 84cm |
| XL | 107cm - 110cm | 112cm - 116cm | 86cm - 90cm |
| Size | Bust | Hips | Waist |
| --- | --- | --- | --- |
| XS | 85cm - 88cm | 91cm - 94cm | 65cm - 67cm |
| S | 88cm - 90cm | 94cm - 97cm | 67cm - 70cm |
| M | 93cm - 97cm | 99cm - 103cm | 72cm - 76cm |
| L | 100cm - 104cm | 107cm - 110cm | 80cm - 84cm |
| XL | 107cm - 110cm | 112cm - 116cm | 86cm - 90cm |
Having Trouble? Checkout our fit video.
CUSTOMER REVIEWS
Size is as described, good fit and quality! Recommended
This is so cute! I received so many compliments on this! I will probably buy this in different colors!
Awesome panties, true to zise, love variety of colors.
Love the all lace, they''re very stretchy and fit me even though I''m slightly bigger than the size recommendations in some areas.
I like them but they fit small and i have purchased other panties the same size and they fit great
The panty itself is very good. It stays in place well and looks great. My only issue with the purchase was that I was under the impression I was getting a panty assortment. But in fact I got 10 different colours of the same panty. So this purchase will be great to go out and feel sexy but not one you want to make when you are wearing a pad.
The material is nice quality. The fit is great and the style is cute.
So comfy. I love these so much. The lace is very sexy, but the tag is very visible.
The panty was very soft lace the only problem is that they run small.
These are amazing, they are Soft and Look great. Love them.
Very attractive. Love these on my girlfriend. Fit very on her
Cute piece! The material is well made and the fit is great.
My girlfriend loves this. She loves the color. This looks really good on her.
Great fit, good quality, would definitely recommend!
very sexy panties, they feel great and look great!
I got these as a freebie with my order... they are great all-around and I would recommend. Thank you Yandy for a great gift!
Fits small, i normally wear large and fit xlarge. The color is nice, and they''re reasonably comfortable
Awesome, like so totally awesome. You''ll love it once you slide it on.
excellent outfit. Yandy has the best priced and best quality lingerie out there. highly recommended
I''m on the smaller size; glad I ordered a medium. A great basic panty. Can''t have too many of these!
I''m a 5''5, 145, curvy woman. I have been a size 10 for most of my adulthood and large is usually my size for most brands. THESE were so tight, they felt like a small. They were super cute, seemed like good quality, I wish they would have fit! I gave them to one of my co-workers who is about 5''7, 130lbs, size 6. It''d be nice if Yandy offered an XL size, but honestly, I don''t know if I would have fit the XL! I''ll look at the measurements closer next time.
gorgeous pair of pantys, very comfortable, very sexy. Once I put them on I totally knew.
My wife loves the color. Fits very good and looks good on her. Yandy is my favorite online store and the best online store.
Perfect perfect perfect perfect & the landlord is the best of luck in your home
I love the material and its exactly as the picture.
Seems to be sized on the small side. I normally wear medium, but should have ordered large for these to fit best.
Very attractive. Love these on my girlfriend. Fit very well to size.
Love, Love, Love these!!! Great fit and very comfortable.
Just what I needed. This garment is durable and comfortable. Thank you.
Very pretty. Run a little small. Would recommend sizing up (once or twice) to avoid muffin top.
I love these I get one with every order cause they are so comftly and cute!!! Never go wrong with that combo ;-)
For free, the most comfortable. The sizes fit pretty exact.
These are nice, I would order a size up next time.
sexy sexy sexy love them!!! you should order a least 2 -3 pair. they''re that perfect
Very soft and comfortable. The red color pictured on camera is not as true to the color in real life, but other than that no problems.
Cute panties. They look great but don''t hit my hips. Too low in the back and cut into my legs. I''m normally a medium. Order a size or two larger.
Fits true to size. Love the lace. Very comfy!!!!!!!
Fits a bit small so I would recommend ordering sizes up
I like the material and all over lace. Very vivid color. Comfortable too.
I love the panties . It came so quickly & I was very surprised that they give free panties every purchase u make
These are absolutely fabulous! Love the fit and how soft they are, I recommend not drying these though, let them air dry. It will keep them from getting little frizzy fibers all over them.
Very soft lace. Its a baby pink color with stretchy sides. Looks very comfortable!
Of course like usual the soft lace full back panty is adorable and sexy. Love it!
Absolutely wonderful. I will totally order this again!
Cute and comfortable. Five for twenty here I come!!
Cute,soft, and comfortable! Fits perfectly! Love the color
These panties are cute and soft. The sizing is accurate as well.
This lingerie set fitted me just perfect, it was comfortable and very sexy , I got out of my comfort zone completely
Very nice quality, the lace is very soft and the satin is a nice soft thick kind. Very comfortable and sexy! I will be buying more for sure. This is the first time I''ve actually felt comfortable in this type of panty😊
Little smaller than expected but very high quality. Very pretty lace.
these run extremely small. Buy one size up
These are lovely panties. I've purchased through Yandy a couple of times recently, and received a black pair & a turquoise pair. The lace is pretty, and soft. The cut was complimentary for the person they were purchased for, and she was very happy with them!