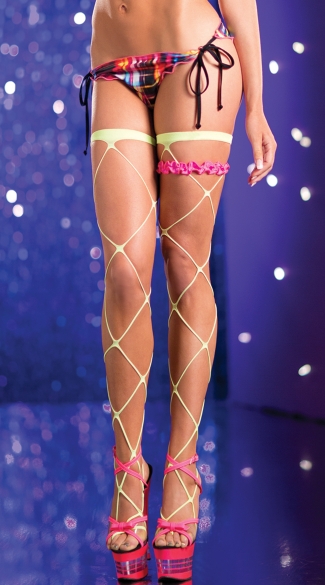 Neon jumbo net thigh high stockings. (Includes stockings only.)
+

Size Guide
| Size | Bust | Hips | Size | Waist |
| --- | --- | --- | --- | --- |
| One Size | 36 - 38 | 38 1/2"- 40 1/2" | 8 - 10 | 27 1/2" - 29 1/2" |
| Size | Bust | Hips | Size | Waist |
| --- | --- | --- | --- | --- |
| One Size | 91cm - 97cm | 968cm - 1019cm | 8 - 10 US | 688cm - 739cm |
| Size | Bust | Hips | Size | Waist |
| --- | --- | --- | --- | --- |
| One Size | 91cm - 97cm | 968cm - 1019cm | 8 - 10 US | 688cm - 739cm |
Having Trouble? Checkout our fit video.
CUSTOMER REVIEWS
Very hot. These jumbo nets are hard to find and usually very expensive. I had to buy every colors Yandy has to offer.
Item is exactly as shown. Ordered the green and will probably be back for other colors
I ordered these to go with a 2 piece set and I was amazed with how they fit on my size 16 thigh! These fit comfortably on my thigh and stays in place without citing off my circulation. Great buy!
These are perfect. Got them as a gift for a friend and she was so excited