Spree Jaded Push-Up Bra
SKU: SG-183
$9.95
$19.95
(50% OFF!)
you save $10.00!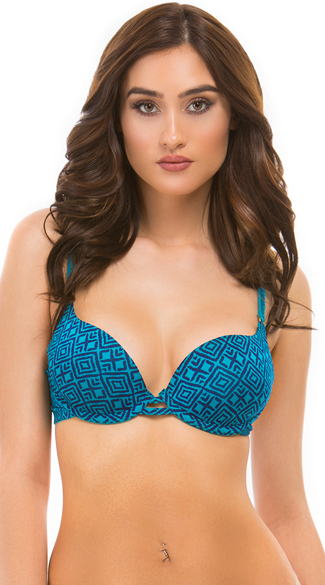 This fun jaded Spree push-up bra features padded microfiber cups, an eyelet detail in front, adjustable straps and a hook closure in back.
CUSTOMER REVIEWS
WOW Thanks YANDY for the free bra. A gurl can never have to many. Your awesome, love shopping here.
Nice, comfortable, sexy bra. Loved it on my wife. Beautiful while wearing it and super while taking it off.
This one is super cute and really provides great support.
Soft, comfortable, true tonsize and adds a great lift! The material is soft enough to wear all day and the fro design makes it super cute and fun to wear!
Perfect fit. Comfortable and keeps the girls in place
Band runs a bit small (I got a 34c), but not terribly uncomfortable. Very pretty, the cup fits well with enough push up for a swooping breast shape. Only thing that would make it better (besides the band being a wee bit larger) is if the cup extended up a little bit farther, to get rid of the "line" that appears across certain shirts I wear.
Fit well, very beautiful, great quality, great color, i like it a lot
Fits perfectly and looks great. Sizing was actually accurate for an online purchase.
The design is a little not my style but it is very comfortable. I forget that I am wearing it.
Fit was perfect comfortable and could ware it with anything. Loved the color.
This is a sexy fitting bra. I think the bandage elastic detail in the back made the band fit a little tight, but once the bra is broken in for at least a day, the fit will be just fine. Aside from that, the bra is wonderful. I am in love with the level 2 push ups. The are the next best to my bombshell bras from VS. I am quite picky about my push up bras because of my shallow breasts, and this is just the right amount of push to give me flattering fullness!