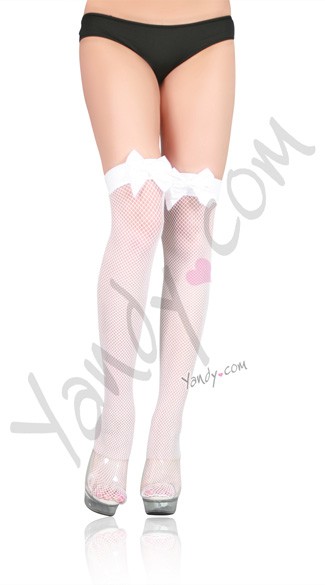 Fishnet thigh high stockings with satin bow. These are the perfect accent to any sexy Santa or red bra/panty set.
CUSTOMER REVIEWS
I love these thigh highs I got them in all the colors for different costumes
I these fishnet stockings, with their cute bows they look great on
tHESE ARWE SO CUTE AND CAN WORN WITH JUST BAOUT ANYTHING, I ORDERED ANY COLOR
I ordered these in every color, they are a nice touch for a sexy night out.
I have a pair like this in another colors, its good quality.
Great fit the bows are a perfect cute addition. Not really thigh high .
These will look great with a cute little skirt. it will look great with short shorts
Bought these to wear with my sailor suit. super sexy and comfy. I love them very much.
amazing! these are cute and can go with any outfit . Its a must to have these along with your lingerie wardrobe.
These are very cute, but not for bigger woman like myself unfortunately :( They fit me, they just kept rolling down and not staying up. If they had them in plus size I would have ordered them instead
Can''t go wrong with these thigh highs. Where have these been all my life?
I have long legs and this was almost panty hose lol. I love em
These are great they stay up the mash is not so tight so you can see through them. I got them in black. I also have them in red and white they are very durable and really worth the price
Perfect fit and they stay up and I don''t have to worry about having to pull them up.
The bow is a nice touch. The fishnet seems fine thus far.