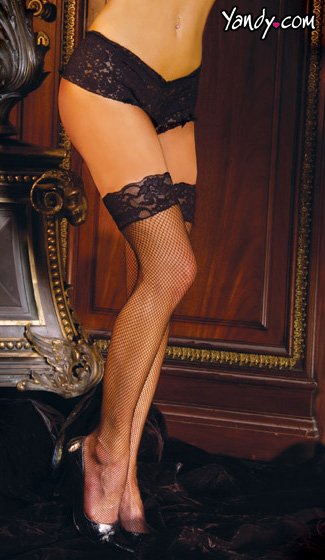 Fishnet, thigh high stockings with sexy lace top. Boyshorts not included.
CUSTOMER REVIEWS
The lace is elegant and they stay up without garters.
These stockings are very sexy and fit great. I definitely recommend them.
Cool stockings does the job, if your short like me of course its going to come up higher .
Very sexy and cute fishnet thig high. I recommend it.
Very nice and sexy thigh highs. I''d recommend this product.
Cute! My first time wearing stockings so I thought it came with those elastic things at the top to hold them up but that was my fault. Luckily I ordered garters with them because they kept rolling off my big thighs lol
These didn''t fit so well. I have thicker thighs so it was a little too tight for me. There cute tho and the price is great.
Good quality and nice design. Comfortable and a great price.
Super sexy, super comfortable, they fit me perfectly! And my husband loved them also :)
These are great!! They fit amazing and are so comfortable!
Never though I would like fishnet stockings but these are incredibly sexy, a little cheap but considering the price they certainly fill the purpose.