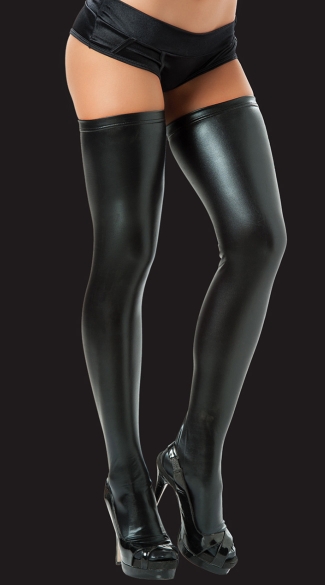 These seductive metallic thigh high stockings are a statement piece that are sure to add a touch of sexy to any outfit you pair them with. Wear them on a night out at the club or in the bedroom for an unforgettable look.
CUSTOMER REVIEWS
love these, fit perfect. very sexy leggings. must have
i have very long legs i love these but i was really hoping they would actually be thigh highs and not knee highs on me.
bad length and bad fit. would go with latex next if i wanted something with the wet look
If you are longer legged these won't go much higher than just above the knee and are too short to realistically use with a suspender, however the fabric is nice (I bought them in silver) and they still work well as a longer knee-high. Would like to see them available as a true X-Tall but not unhappy with my purchase.
These stockings are a true thigh high, however i'm an XS in size and found that they run a little big around the back of the knees. Still gorgeous though, and fit into garter buttons fine. Ordered on 16/3 and they arrived on 1/4 with the cheapest shipping. Super happy with my purchase!