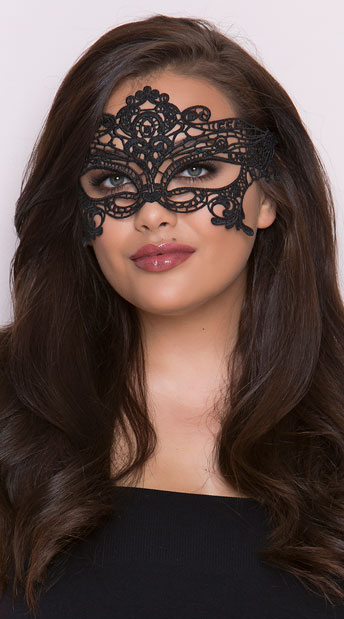 This black eye mask is gorgeously embroidered with an intricate pattern and makes for a sexy addition to any lingerie costume or party ensemble.
+

Size Guide
| Size | Cup | Bust | Dress | Hips | Waist |
| --- | --- | --- | --- | --- | --- |
| One Size | A-C | 32-40 | 6-14 | 34-41 | 23-31 |
| Size | Cup | Bust | Dress | Hips | Waist |
| --- | --- | --- | --- | --- | --- |
| One Size | A-C US | 81cm - 102cm | 38 - 46 | 86cm - 104cm | 58cm - 79cm |
| Size | Cup | Bust | Dress | Hips | Waist |
| --- | --- | --- | --- | --- | --- |
| One Size | A-C US | 81cm - 102cm | 10 - 18 | 86cm - 104cm | 58cm - 79cm |
Having Trouble? Checkout our fit video.
CUSTOMER REVIEWS
The quality of the product is very nice. It''s actually a soft material, fabric mask w/out any wires in it to hold the shape (which is not how I pictured it). It has two lace straps on the back to tie around your head, and that''s how it holds itself together. It looks nice, and the quality is high for the price. It probably looks good on 90% of the people, but I don''t like the eye shape cut look on myself, so I''m returning this. Otherwise, great product. Highly recommend.
Super sexy. Good quality. Looks just like the picture. And shipped very fast. Definitely happy with this purchase.
Super sexy!!! It''s a little loose on my face but the more I wear it the more I think it''ll begin to form to my face. I''m happy!
Love this, its beautiful and comfy. Perfect for a night out.
I trully enjoy and love this embroicered Venice Eye Mask.
Nice item..great for dress up costume play or just plain fun.
Omgosh this is soo sexy and cute. It really add that extra sexiness to my coustume
Very seductive and elegant all at once. Cheap and adds a layer of mystery to your bedroom adventures.
It''s pretty thick material I love it it''s not cheap at all tried it on even took pics got tons of comments I love it
a little wide for my face, but it has beautiful lace ties in the back!
I was so eager to receive the mask, and when I did, I realizd It''s even prettier than I expected. Shipping was extremely fast, which is a plus for me. I love it!!! I Already know the next items I want.
Unless you have long hair you will definintely see the lace as it goes past the face. Long hair will hang down and cover it. short hair....not so much. Seems like it also might have been made for someone with a wide face. Returning and looking for something a little smaller.
Looks beautiful in the picture but when it arrived it was all squished up and I tried to iron it on low but it melts, not worth it.