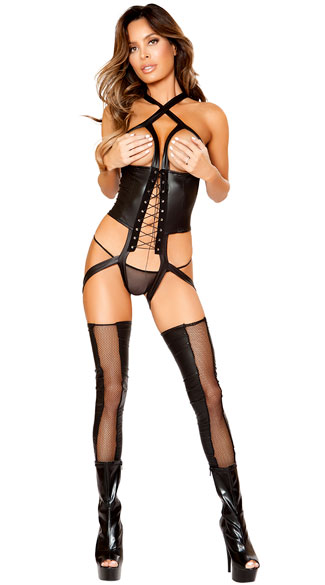 This edgy teddy features a black vinyl bodice, lace up details, open cups, criss-cross back, and attached leg garters. (Leg warmers and a matching panty are not included.)
+

Size Guide
| Size | Bust | Dress | Hips | Waist |
| --- | --- | --- | --- | --- |
| S/M | 32B-34D | 2-6 | 34-36 | 24-26 |
| XL | 36D-36DD | 10-12 | 40-44 | 30-34 |
| Size | Bust | Dress | Hips | Waist |
| --- | --- | --- | --- | --- |
| S/M | 81cm - 86cm | 34 - 38 | 86cm - 91cm | 61cm - 66cm |
| XL | 91cm - 91cm | 42 - 44 | 102cm - 112cm | 76cm - 86cm |
| Size | Bust | Dress | Hips | Waist |
| --- | --- | --- | --- | --- |
| S/M | 81cm - 86cm | 6 - 10 | 86cm - 91cm | 61cm - 66cm |
| XL | 91cm - 91cm | 14 - 16 | 102cm - 112cm | 76cm - 86cm |
Having Trouble? Checkout our fit video.
COMPLETE THE LOOK

Vinyl and Fishnet Leg Warmers
Complete your outfit with these sexy vinyl leg warmers featuring a sheer fishnet front panel.
$16.99

Yandy Soft Lace Thong Panty
Sexy, soft and comfortable, this Yandy exclusive thong features all over lace and a thick lace band.
$4.95
+

Sizing Guide
| Size | Bust | Hips | Waist |
| --- | --- | --- | --- |
| XS | 33.5-34.5 | 36-37 | 25.5-26.5 |
| S | 34.5-35.5 | 37-38 | 26.5-27.5 |
| M | 36.5-38 | 39-40.5 | 28.5-30 |
| L | 39.5-41 | 42-43.5 | 31.5-33 |
| XL | 42-43.5 | 44-45.5 | 34-35.5 |
| Size | Bust | Hips | Waist |
| --- | --- | --- | --- |
| XS | 85cm - 88cm | 91cm - 94cm | 65cm - 67cm |
| S | 88cm - 90cm | 94cm - 97cm | 67cm - 70cm |
| M | 93cm - 97cm | 99cm - 103cm | 72cm - 76cm |
| L | 100cm - 104cm | 107cm - 110cm | 80cm - 84cm |
| XL | 107cm - 110cm | 112cm - 116cm | 86cm - 90cm |
| Size | Bust | Hips | Waist |
| --- | --- | --- | --- |
| XS | 85cm - 88cm | 91cm - 94cm | 65cm - 67cm |
| S | 88cm - 90cm | 94cm - 97cm | 67cm - 70cm |
| M | 93cm - 97cm | 99cm - 103cm | 72cm - 76cm |
| L | 100cm - 104cm | 107cm - 110cm | 80cm - 84cm |
| XL | 107cm - 110cm | 112cm - 116cm | 86cm - 90cm |
CUSTOMER REVIEWS
A big WOW for that teddy, I love the fabric, soft and comfortable, and my man adores it :)