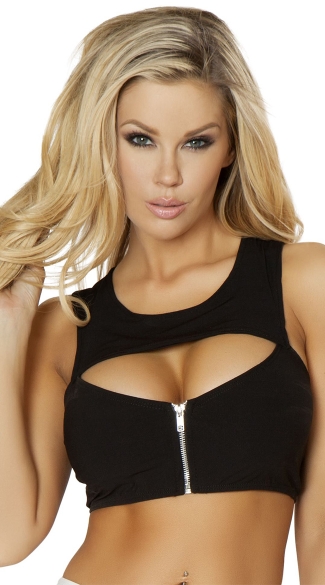 This sexy crop top can be added to any skirt or pant ensemble for a sassy look. Featuring a zipper in the front and a large cut out above the breasts, this racer back top will keep your style on trend.
CUSTOMER REVIEWS
great color. wonderful fabric. look very good. perfect size.
Very sexy and fits well. Happy with my purchase would definitely recommend.
Love this top! I got an L, and my 36D+ chest just fits into it. By ''just'', I mean that if I wear it without a bra (which I actually can, it does have enough support), it''s a little... squishy, like it pushes my boobs in and not just up. That''s okay, but I prefer it with a bra, for additional cleavage/support, but in that case I I have to leave it partially unzipped (which looks cute, so no real problem). But, I feel like a true large should be able to handle my size and even somewhat bigger, which is why I''m giving it 4 and not 5 stars. Nonetheless, I''d absolutely recommend (it if your chest is no bigger than mine). I love its versatility - I can layer it above a cami top and wear it for day to day stuff but it''ll be a fabulous crop top for summer/festivals etc. The material is a bit stretchy, but less than I expected, I''m not sure how to describe it, it''s not lycra or anything like that, it''s more fitted.
Fits true to size, good quality; highly recommended!