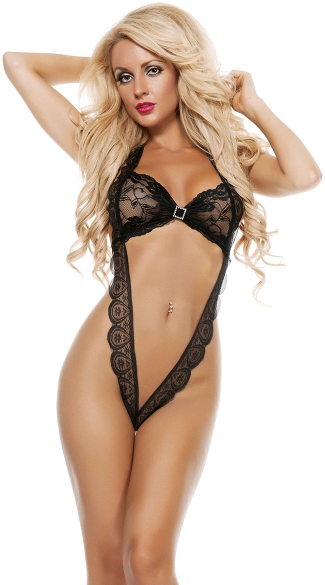 Sexy and scandalous, just the way you are. Wear this barely there teddy to blow his mind, featuring a lacy strap plunge that stops right above the crotch, paired with a bra top in sheer lace with a square rhinestone accent.
COMPLETE THE LOOK

Yandy Soft Lace Thong Panty
Sexy, soft and comfortable, this Yandy exclusive thong features all over lace and a thick lace band.
$4.95
+

Sizing Guide
| Size | Bust | Hips | Waist |
| --- | --- | --- | --- |
| XS | 33.5-34.5 | 36-37 | 25.5-26.5 |
| S | 34.5-35.5 | 37-38 | 26.5-27.5 |
| M | 36.5-38 | 39-40.5 | 28.5-30 |
| L | 39.5-41 | 42-43.5 | 31.5-33 |
| XL | 42-43.5 | 44-45.5 | 34-35.5 |
| Size | Bust | Hips | Waist |
| --- | --- | --- | --- |
| XS | 85cm - 88cm | 91cm - 94cm | 65cm - 67cm |
| S | 88cm - 90cm | 94cm - 97cm | 67cm - 70cm |
| M | 93cm - 97cm | 99cm - 103cm | 72cm - 76cm |
| L | 100cm - 104cm | 107cm - 110cm | 80cm - 84cm |
| XL | 107cm - 110cm | 112cm - 116cm | 86cm - 90cm |
| Size | Bust | Hips | Waist |
| --- | --- | --- | --- |
| XS | 85cm - 88cm | 91cm - 94cm | 65cm - 67cm |
| S | 88cm - 90cm | 94cm - 97cm | 67cm - 70cm |
| M | 93cm - 97cm | 99cm - 103cm | 72cm - 76cm |
| L | 100cm - 104cm | 107cm - 110cm | 80cm - 84cm |
| XL | 107cm - 110cm | 112cm - 116cm | 86cm - 90cm |