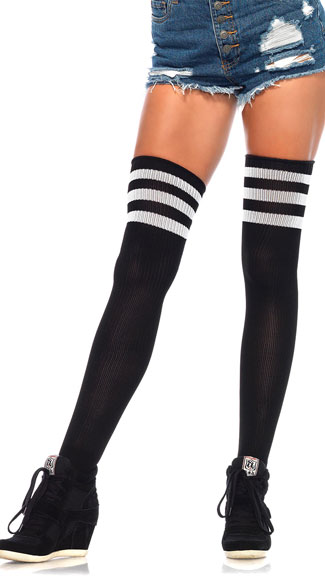 These athletic ribbed thigh high socks feature a triple striped contrast colored top. (Socks only.)
+

Size Guide
| Size | Cup | Bust | Dress | Hips | Waist |
| --- | --- | --- | --- | --- | --- |
| One Size | A-C | 32-38 | 4-10 | 34-40 | 23-29 |
| Size | Cup | Bust | Dress | Hips | Waist |
| --- | --- | --- | --- | --- | --- |
| One Size | A-C US | 81cm - 97cm | 36 - 42 | 86cm - 102cm | 58cm - 74cm |
| Size | Cup | Bust | Dress | Hips | Waist |
| --- | --- | --- | --- | --- | --- |
| One Size | A-C US | 81cm - 97cm | 8 - 14 | 86cm - 102cm | 58cm - 74cm |
Having Trouble? Checkout our fit video.
CUSTOMER REVIEWS
Super cute and good quality. Nice elastic, hate when that is loose.
love these!! bought the red, white, and blue ones for a costume but will be wearing them even after halloween! i actually want to buy them in the burgundy color too! they reach so high ! I''m 5''8.5"and didn''t expect them to reach me as high as the model but it does! my bottoms are a size 4, my roommate bought a pair for her costume and it reached around the same length on her! maybe just slightly higher and she''s only around 5''3 or 5''4 ish and around a size 6 or 8. i was so weird. there kind of like the sister hood of the traveling socks ! it fit nicely on everyone haha
Adorable, good quality runs kind of small but maybe I just have fatty thighs. ?
The socks were great. I did not have any problems with it.
A little tight for a one sizes fits all, however I improvised and it works pretty good
So sexy and great fit, flattering - highly recommended!!!!
Perfect little details to match my Olympian costume!
I ove these!! I will order more colors in future!!
Hesse are great. I love to wear them to sleep. They really keep my legs warm
When they say neon they mean neon !! A lot brighter than the picture think hi lighter pink. I actually was disappointed at first but after putting them on they look great! Stay up and fit like I expected
SUPER COMFY really love these might get some more!
I ordered the maroon and white ones and they are fantastic! I can''t wait to pair them with my daily outfits when it gets cooler again.
Good quality materials, essentially just big giant tube socks. Adds something unique to your outfit.
I LOVE these I would have loved them during my high school days.
They had a good fit around my legs however they didn''t stay up very well. I had to keep pulling them up all night.
Love these thigh highs! I''m 5''8 and the length is perfect, would live to get more colors.
Very good product, perfect length and actually quite warm if you wanted to be hot and HOT at the same time.