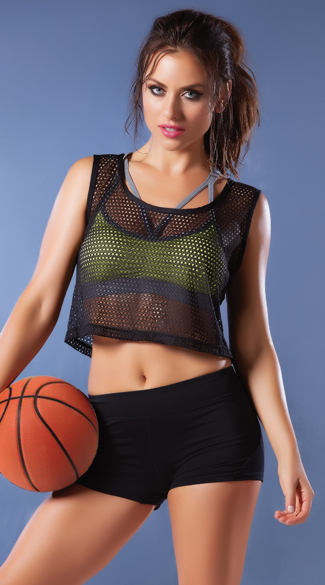 Add some edge to your ensemble with this cropped fishnet tank top featuring a scoop neck and thick shoulder straps. (Sports bra, shorts and gloves not included.)
+

Size Guide
| Size | Bust | Dress | Cup | Hips | Waist |
| --- | --- | --- | --- | --- | --- |
| One Size Fits Most | 32-38 | 2-14 | A-C | 34-40 | 24-32 |
| Size | Bust | Dress | Cup | Hips | Waist |
| --- | --- | --- | --- | --- | --- |
| One Size Fits Most | 81cm - 97cm | 34 - 46 | A-C US | 86cm - 102cm | 61cm - 81cm |
| Size | Bust | Dress | Cup | Hips | Waist |
| --- | --- | --- | --- | --- | --- |
| One Size Fits Most | 81cm - 97cm | 6 - 18 | A-C US | 86cm - 102cm | 61cm - 81cm |
Having Trouble? Checkout our fit video.
COMPLETE THE LOOK

Multi-Strapped Microfiber Sports Bra
Push yourself to the limit in this cute sports bra featuring a scoop neck, a contrast elastic waistband, strappy front details, a contrast mesh back panel, removable padding, and a multi-strapped racerback. (Shorts and gloves not included.)
$11.95
OR

3 for $33!
+

Sizing Guide
| Size | Cup | Bust | Dress | Hips | Waist |
| --- | --- | --- | --- | --- | --- |
| S | A/B | 32-34 | 2-6 | 34-36 | 24-26 |
| M | B/C | 34-36 | 8-10 | 36-38 | 26-28 |
| L | C | 36-38 | 12-14 | 38-40 | 28-30 |
| Size | Cup | Bust | Dress | Hips | Waist |
| --- | --- | --- | --- | --- | --- |
| S | A/B US | 81cm - 86cm | 34 - 38 | 86cm - 91cm | 61cm - 66cm |
| M | B/C US | 86cm - 91cm | 40 - 42 | 91cm - 97cm | 66cm - 71cm |
| L | C US | 91cm - 97cm | 44 - 46 | 97cm - 102cm | 71cm - 76cm |
| Size | Cup | Bust | Dress | Hips | Waist |
| --- | --- | --- | --- | --- | --- |
| S | A/B US | 81cm - 86cm | 6 - 10 | 86cm - 91cm | 61cm - 66cm |
| M | B/C US | 86cm - 91cm | 12 - 14 | 91cm - 97cm | 66cm - 71cm |
| L | C US | 91cm - 97cm | 16 - 18 | 97cm - 102cm | 71cm - 76cm |

Fingerless Motorcycle Gloves
Fingerless motorcycle gloves. Ride in style with these black fingerless gloves. (Includes a set of 2 gloves)
$12.95
OR

Buy 3 Get 25% Off
+

Sizing Guide
| Size | Cup | Bust | Dress | Hips | Waist |
| --- | --- | --- | --- | --- | --- |
| One Size | A-C | 32-38 | 4-10 | 34-40 | 23-29 |
| Size | Cup | Bust | Dress | Hips | Waist |
| --- | --- | --- | --- | --- | --- |
| One Size | A-C US | 81cm - 97cm | 36 - 42 | 86cm - 102cm | 58cm - 74cm |
| Size | Cup | Bust | Dress | Hips | Waist |
| --- | --- | --- | --- | --- | --- |
| One Size | A-C US | 81cm - 97cm | 8 - 14 | 86cm - 102cm | 58cm - 74cm |

Microfiber and Mesh Shorts
Work up a sweat in these black microfiber shorts featuring sheer mesh side panels. (Sports bra not included.)
$9.95
+

Sizing Guide
| Size | Cup | Bust | Dress | Hips | Waist |
| --- | --- | --- | --- | --- | --- |
| S | A/B | 32-34 | 2-6 | 34-36 | 24-26 |
| M | B/C | 34-36 | 8-10 | 36-38 | 26-28 |
| L | C | 36-38 | 12-14 | 38-40 | 28-30 |
| Size | Cup | Bust | Dress | Hips | Waist |
| --- | --- | --- | --- | --- | --- |
| S | A/B US | 81cm - 86cm | 34 - 38 | 86cm - 91cm | 61cm - 66cm |
| M | B/C US | 86cm - 91cm | 40 - 42 | 91cm - 97cm | 66cm - 71cm |
| L | C US | 91cm - 97cm | 44 - 46 | 97cm - 102cm | 71cm - 76cm |
| Size | Cup | Bust | Dress | Hips | Waist |
| --- | --- | --- | --- | --- | --- |
| S | A/B US | 81cm - 86cm | 6 - 10 | 86cm - 91cm | 61cm - 66cm |
| M | B/C US | 86cm - 91cm | 12 - 14 | 91cm - 97cm | 66cm - 71cm |
| L | C US | 91cm - 97cm | 16 - 18 | 97cm - 102cm | 71cm - 76cm |